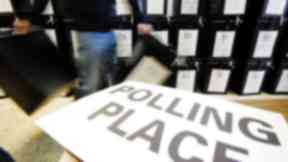 'May you live in interesting times,' goes an old Chinese curse.
Actually, it turns out this malediction is apocryphal, or at least its supposed Chinese origins.
But the pseudo-proverb is perfect for 2015, a year set to be chock-full of political excitement.
We have general elections here and abroad, the rise of populist and marginal parties, and widespread anger at establishment parties.
What this will mean for politics, domestic and global, remains to be seen. But one thing is for sure, it will be "interesting".
Here, we run through key people and events to watch out for this year.
1. The General Election
The 2015 general election is shaping up to be the closest and most unpredictable in generations. Neither of the two main parties can manage the 40% of public support usually required to win a majority in the House of Commons. This is hardly surprising given popular disenchantment with the political mainstream and the wave of populist sentiment sweeping the country. In England, this inchoate anger is being tapped by Ukip, with Nigel Farage's nationalists offering immigrants as the cause of Britain's ills and withdrawal from the European Union as the solution. In Scotland, the SNP is profiting from disillusionment with Scottish Labour and the polls consistently predict Nicola Sturgeon's party will reduce Labour to a handful of seats in May. This makes Ed Miliband's path to Number Ten more difficult than his poll lead would suggest. Add in a forecast nosedive in the Lib Dem vote and a surge for the Greens and Westminster is set to become a very interesting place this year.
2. Gordon
Alex Salmond is all but guaranteed to win this north-east seat in the May general election, its boundaries overlapping with parts of the former First Minister's current Scottish Parliament seat. The incumbent Liberal Democrat MP Sir Malcolm Bruce is standing down and none of the Unionist parties is offering a viable replacement. Mr Salmond's return to 'Team Westminster' will not only inject some life into a parliament wanting for skilled performers but, if he is indeed accompanied by a sizeable contingent of Nationalists, will also shift the balance of power away from the Conservatives and Labour.
3. Ukip
Nigel Farage's populist party has been riding high ever since it won the European elections, gaining its first two MPs elected under the Ukip banner and consistently polling double the support for the Lib Dems. A series of candidate gaffes and internal squabbles have failed to halt the eurosceptic party's forwards march but the question remains whether they can turn their poll ratings into a respectable number of seats at the election.
4. The consequences of coalition
Nick Clegg no doubt thought his decision to form a coalition with David Cameron after the 2010 election was a stroke of strategic genius. Labour would be tossed out of government, he would get to implement policies for the first time, and the Lib Dems would gain credibility as a party of government. But as the old Yiddish proverb goes, "der mentsh trakht un Got lakht" -- "man plans and God laughs". The public did not view the compromises on manifesto pledges necessary to forge a coalition agreement as the maturation of the Lib Dems so much as the selling out of their voters. Now, they face a kicking at the ballot box from angry supporters who feel betrayed.
5. Nicola Sturgeon
Nicola Sturgeon is enjoying a honeymoon period following her coronation as First Minister. She is a skilled media performer, the public is with her, and the opposition is yet to land a blow on her. Two tests lie ahead. One, can her party bring to fruition the polls showing them taking almost every Westminster seat in Scotland. Two, can she carry through a programme for government that distinguishes her ministry from that of her predecessor and go into the 2016 Holyrood vote with a record of achievement.
6. Jim Murphy
The election of Jim Murphy as its new leader suggests Scottish Labour might have finally decided to start winning elections again. The former secretary of state for Scotland is a talented political operator but it will take all his abilities to put the Labour humpty dumpty back together again. His first task will be to fight to retain as many seats as possible in the 2015 poll then, taking the result on the chin, start the long and arduous work of rebuilding the party and its electoral coalition.
7. The Scottish Conservatives
The Scottish Tories have convinced themselves, and even a few others, of many new dawns that ultimately turned out to be false. However, the party is undeniably in good shape as it faces May's general election. It has a young and charismatic leader who is widely judged to have had a good referendum and the party has started making interesting noises on tax and education. The Tories look likely to retain their sole Scottish seat, Dumfriesshire, Clydesdale and Tweeddale, but a collapse in the Lib Dem vote could see them taking West Aberdeenshire and Kincardine too.
8. Green shoots
The Scottish Greens aren't expected to win any seats in the 2015 general election but the level of support they attract will be taken as an indicator of the party's post-referendum position. Like the SNP, they have seen a surge in membership and an uptick in poll ratings in recent months. South of the Border, the party is on track to hold its single seat in Brighton Pavilion and increase its share of the vote, largely at the expense of Labour and the Lib Dems. Political observers will be looking to see if the left-wing environmentalist party can add to its haul of MPs and become a permanent presence in the Commons.
9. Whither the Left?
2014 was the year the Scottish Left, particularly in the form of the Radical Independence Campaign, got its act together. Left-wing ideas were prominent in the independence debate and the SNP found itself promising policies far more radical than we are used to hearing from that painfully centrist party. As well as engaging young and first-time voters, RIC also trained up new activists and it would do well to cherish this valuable resource and use it wisely. The big question is whether RIC can influence the SNP from the outside or whether it will have to form its own political party to advance a socialist case for independence.
10. The new media landscape
Supporters of independence now have an impressive range of media outlets to turn to for projection of their views. The National and the Sunday Herald are full-throated proponents of independence while websites like Wings over Scotland, Bella Caledonia, and Newsnet Scotland offer a daily diet of news and opinion content from a pro-independence perspective. The country's latest news programme, the Scottish Evening News, has cut a series of promos in the hope of securing enough funding to sustain regular broadcasting. The challenge for these alternative outlets is to reach out beyond their core audiences while the challenge for the mainstream media is to restore the faith of consumers who feel they are not properly served by established newspapers and broadcasters.
11. Political upheaval in Ireland
In the Great Hall @ Stormont. Time 2 Go Home. pic.twitter.com/gwB3oVAw7W

— Gerry Adams (@GerryAdamsSF) December 23, 2014
The Irish government doesn't have to call elections until early 2016 but the seismic political shifts going on in that country could bring about an earlier poll. The current Fine Gael/Labour coalition is intensely unpopular amidst its introduction of controversial water charges in the republic. Sinn Fein now leads the opinion polls, posing a fresh constitutional challenge to the UK.
12. Podemos
The Spanish political party, only founded in 2014, is leading in the opinion polls for 2015's general election. Led by television presenter Pablo Iglesias Turrión, Podemos has seen a membership surge that would make even the SNP jealous. Its far-left populism has found favour amongst Spanish voters contemptuous of the political establishment and eager for a shortcut around economic austerity. Whether this support can be translated into seats in the Congress of Deputies remains to be seen but we can say with some confidence that the era of two-party politics in Spain is coming to an end. Beyond the Kingdom's borders, a poll victory for the eurosceptic Podemos could also upset the applecart within the European Commission.
13. The True North turns back to the Left?
Canada's prime minister Stephen Harper is entering his tenth year at 24 Sussex Drive but his Conservative Party has lost favour with the voters. The Liberals, once the dominant party of federal politics, were swept into an unprecedented third place in the 2011 Tory landslide but have since found themselves a young, telegenic new leader in Justin Trudeau, son of iconic former PM Pierre Trudeau. Election watchers will be keen to see whether the Liberals can win back the affections of a more conservative electorate and what will become of the socialist NDP, which is currently the official opposition for the first time in its history.
14. Change in the air in Israel
Following the collapse of Benjamin Netanyahu's awkward centre-left/centre-right/really right coalition, Israelis will go to the polls on March 17. Bibi, as the Likud prime minister is known, had previously been expected to sail to re-election but the voters, who have never particularly liked him, have turned positively hostile. Before he could count on an opposition in disarray but the Israeli Left has started to get its act together and polls put it head of Bibi's centre-right party. To make matters worse, a former Likud colleague has set up a new centre party that is expected to draw away middle class and liberal-right voters. So the election to the 20th Knesset is shaping up to be as unpredictable as our own vote in May. The looming question is whether a new government would be able to bring the Palestinian leadership to the negotiating table and achieve the peace deal that has eluded Israeli prime ministers and American presidents for decades.
15. An early start for the next US presidential election
Americans don't choose a new president until 2016 but expect the long campaign to kick in during 2015. After eight years of Barack Obama the Republicans are hoping to take back the White House while the Democrats will be keen to distance themselves from a divisive president and chart a post-Obama policy agenda. Leading contenders for the GOP nomination include former Florida governor Jeb Bush, Florida senator Marco Rubio, and New Jersey governor Chris Christie but don't be surprised if libertarian wildcard Rand Paul and reformist Wisconsin governor Scott Walker throw their hats in the ring too. Former secretary of state Hillary Clinton is seen as the front runner amongst the Democrats but her polarising personal and political profile means she could face tough competition from left-wingers Elizabeth Warren (senator from Massachusetts) and Andrew Cuomo (governor of New York) and popular New Jersey senator Cory Booker. Some of those names might be unfamiliar but by the end of 2015 many will have become regular fixtures in international news.