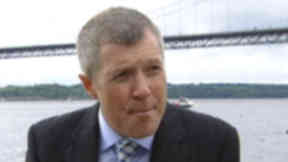 Willie Rennie is the Ned Flanders of Scottish politics.
Even if he's a little earnest and goes on-diddly-on a bit about things no one cares about -- sustainable this and localised that -- it's nigh on impossible not to like him.
If the Scottish Liberal Democrat leader proposed conscripting puppies to fight a war against baby seals, he'd be so darned reasonable about it you'd find yourself nodding along soon enough.
But his latest comments on devolution will be troubling to anyone who thinks the Lib Dems should be advocates for a modern, workable constitution.
In a lecture to be delivered at the David Hume Institute on Tuesday evening, Mr Rennie said: "The SNP want independence by the back door. As a minimum they say they want a form of ultra-extreme devolution that doesn't exist anywhere else in the world and which would inevitably tip Scotland into independence."
While Devo Ultra would be a great name for a new brand of deodorant, Mr Rennie's comments hint at a waning in enthusiasm for devolution within his diminished ranks.
Yes, he was speaking in the context of the forthcoming UK general election and how he thinks the SNP will exploit its predicted victory over Labour in Scotland to push for independence-on-the-fly.
Of course, there can be no doubt that the SNP exists to achieve independence. Breaking Scotland away from the rest of the UK is the alpha and omega of Scottish nationalism. But to hear a Lib Dem leader dismiss the transfer of powers from central government to nations and regions so forcefully is a little jarring.
The Liberal Democrats, and the Liberal Party which preceded them, were once unapologetic advocates of home rule. The party of Gladstone has always believed in a dynamic constitution with enhanced autonomy for the constituent parts of the UK.
An illustrative example of this is Federalism: The Best Future for Scotland, the report of the party's home rule and community rule commission, published in 2012 and boasting a preface by Mr Rennie.
The report articulates the Lib Dems' hitherto unequivocal support for home rule and federalism. Here are a few tasters:
"Liberal Democrats always recognised that devolution would only ever be a halfway house to a more permanent modern constitutional framework."
"The time has come to reassert that Scottish Liberal Democrats are federalists. We are for home rule, within a strong and federal United Kingdom."
"More devolution alone will not do the job. More devolution will not be the stable long-term solution that our country needs. Constant fiddling with the balance of power and responsibilities does not bring stability."
There are some on what remains of the moderate wing of the SNP who could sign up to that.
At some point in the devolution process, the Lib Dems have become so hostile to the idea of independence that even the decentralisation of power, once as Lib Dem as sandals and muesli, is now viewed with suspicion.
So much so that the idea of further devolution -- namely full autonomy minus defence and foreign affairs powers -- is branded extreme, and ultra-extreme at that.
What has happened to this party and how does it get back on track?
Here is a way forward:
"The underlying principle of devolving power and moving towards home rule is that government should be exercised as close to the people as is possible and consistent with good and efficient government. We believe that people who make their own decisions are likely to make better ones.
"They will undoubtedly make the wrong decisions sometimes, but one could argue that they had a democratic right to do so. They are liable to make the right decision more often than not, as they know the local conditions, sensitivities and needs. That is the fundamental principle to which we as a party strongly subscribe."
These aren't the words of Alex Salmond or Nicola Sturgeon or some other "ultra-extreme" Nationalist. They belong to Baron Wallace of Tankerness, speaking in February 1992 when he was still Jim Wallace.
Two months later, he would become leader of the Scottish Liberal Democrats and go on to establish the Lib Dems as Scotland's second party at general elections and lead his party into coalition government at Holyrood in 1999 and 2003.
The constitution isn't why voters are abandoning the Lib Dems but if the party wants to survive it requires a reason for being in the business of politics and a mission to unite those who remain after a predicted drubbing in 2015.
There is an opening in Scottish and wider UK politics for a party that offers an alternative to the constitutional hodgepodge of asymmetrical devolution, the unambitious devo-minimalism of the Smith Commission, and the various separatisms of the SNP, Sinn Fein, and Ukip.
A federal UK in which the four nations are equal partners and cities and regions are granted greater autonomy would go some way to remedying our constitutional imbalances.
The Liberal Democrats, at Scottish and UK levels, could be the party to coax Britain out of its political "halfway house" and help found "a more permanent modern constitutional framework". They just have to remember what they've always believed.
Stephen Daisley is STV's digital political correspondent. You can contact him at stephen.daisley@stv.tv.