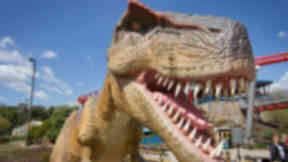 If you thought the Curriculum for Excellence marked an educational shake-up, one SNP MSP has a surprise for you.
John Mason, who represents Glasgow Shettleston in the Scottish Parliament, has lodged a motion at Holyrood calling for creationism to have a place in schools.
Jesus, Mary and, indeed, Joseph.
The motion was placed on Friday and reads in its entirety: "That the Parliament notes that South Lanarkshire Council has issued guidance concerning the appointment and input of chaplains and religious organisations in schools; understands that some people believe that God created the world in six days, some people believe that God created the world over a longer period of time and some people believe that the world came about without anyone creating it; considers that none of these positions can be proved or disproved by science and all are valid beliefs for people to hold, and further considers that children in Scotland's schools should be aware of all of these different belief systems."
To get our overly-rationalist youngsters ready to hit the ground running, or the water walking, here is a precis of what a creationist curriculum would look like.
God created the Earth -- and did it in six days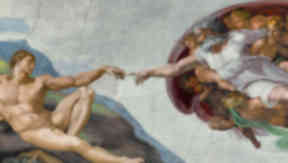 "Taking Genesis 1 in this way, at face value, without doubt it says that God created the universe, the earth, the sun, moon and stars, plants and animals, and the first two people within six ordinary (approximately 24-hour) days."
-- Ken Ham, Answers in Genesis
The Earth is just 6000 years old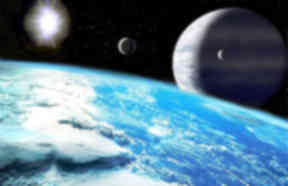 "[E]very honest attempt to determine the date, starting with a deep commitment to the inerrancy of God's Word, has calculated a span of just a few thousand years, most likely close to 6000 years, since creation."
-- Dr John Morris, President of the Institute for Creation Research
The Sun revolves around the Earth
"[M]odern science has documented for us in bold fashion that the Earth is motionless in space and occupies the center of the universe (yet have done an equally remarkable job in keeping these important facts out of our educational system)..."
-- Galileo Was Wrong, The Church Was Right by Robert Sungenis and Robert Bennett
Science is a Satanic conspiracy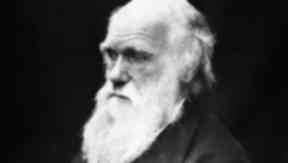 "God's word is true. I've come to understand that. All that stuff I was taught about evolution and embryology and Big Bang theory, all that is lies straight from the pit of hell. And it's lies to try to keep me and all the folks who are taught that from understanding that they need a savior."
-- Former US Congressman Paul Broun
And dinosaurs are... well, take your pick: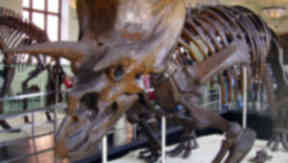 They lived in harmony alongside man since the day of creation
"Dinosaurs are often portrayed as having lived in a time before man. However, the available evidence shows that man and dinosaur coexisted... The book of Job refers to a creature called behemoth. With a massive size and a tail like a cedar tree, its description matches that of a sauropod dinosaur. God calls it to Job's attention with the words 'Behold now behemoth, which I made with thee' (Job 40:15). Thus, this statement affirms that both behemoth and man were made on the same day. Ezekiel, James, and Paul refer to the book of Job, authenticating its reliably historical testimony."
-- Institute for Creation Research
They were on the Ark with all the other animals
"God had told Noah to bring pairs of each kind of land animal on board the Ark, including, evidently, the dinosaurs (7:15). Recognizing that as reptiles, dinosaurs would have continued to grow as long as they lived, implying that the oldest would be the largest, there was plenty of room on board the Ark for the younger ones."
-- Dr John Morris, President of the Institute for Creation Research
Which reminded us of this:
The Loch Ness Monster? Dinosaur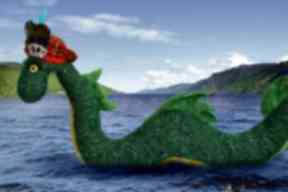 "Are dinosaurs alive today? Scientists are becoming more convinced of their existence. Have you heard of the Loch Ness Monster in Scotland? 'Nessie' for short has been recorded on sonar from a small submarine, described by eyewitnesses, and photographed by others. Nessie appears to be a plesiosaur."
-- Biology 1099, Accelerated Christian Education
No word yet on where Denver the Last Dinosaur fits into all this
We went to Barney for comment. He said this:
So, that's our new scripturally-approved science lessons sorted. Call it the Curriculum for Exodus.
We note Mr Mason will allow some school time for alternative theories, like science and all that monkey business. But we prefer creationism, for the theological LOLz if nothing else. Sure, it might take time for Scottish students to get used to it but Rome wasn't built in a day. Even if the world was in six.
Godless heathen snarking by Stephen Daisley, STV's digital political correspondent. You can contact him at stephen.daisley@stv.tv or, alternatively, IN THE ETERNAL FIRES OF HELL.