Funding for medical students 'has fallen by 5% over six years'
MSP and former GP Dr Richard Simpson said the Scottish Government had been 'negligent'.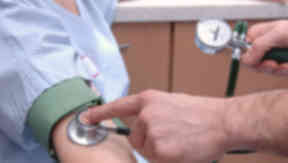 Funding for medical students has fallen by 5% over the last six years, according to Scottish Labour.
Research by MSP and former GP Dr Richard Simpson found that 900 medical students received funding in 2008/09 but the number decreased to 848 students in 2014/15.
Dr Simpson said the Scottish Government has been "negligent" as the country "heads towards a GP recruitment crisis".
The Scottish Government said the figures "fail to take account of a number of complex changes" to medical student funding and that funding for general medical services has increased by 10%.
Dr Simpson, Scottish Labour's public health spokesman, said: "It beggars belief that even though Scotland faces a looming GP crisis the SNP Government has cut funding for medical students since 2008.
"Instead of investing in the future of our NHS the Scottish Government is making existing problems even worse.
"The previous Labour-led Scottish Government planned for the long-term by investing in medical students to address a growing elderly population and an increase in complex multiple conditions. That was the action of a serious, responsible government with its eye on the ball.
"The SNP Government has been negligent in the face of mounting pressure on general practice in Scotland. The major problems for patients today will be nothing compared to what's coming down the tracks in the next decade if the SNP Government doesn't wake up and take action now.
A spokesman for health secretary Shona Robison said: "The figures Richard Simpson produces fail to take account of a number of complex changes which have impacted on the funding provided to support medical students.
"In reality, we have increased funding for general medical services by 10%.
"Record funding for general practice of £768m has brought GP numbers to nearly 5,000, 7% more GPs under this Scottish Government - the highest ever - and there are more GPs per head of population in Scotland than in England.
"Scotland has more medical students per head of population than the rest of the UK and we are carefully considering the future workforce requirements, focusing especially on widening access to medical school for applicants from more diverse and disadvantaged backgrounds.
"The 2015 recruitment round has filled 92% of vacant posts and the overall fill rate of all established training posts is currently 96%.
"We are working with the BMA on a new GP contract which will support GPs in the vital work they do.
"Issues around GP recruitment are obviously not unique to Scotland, but - unlike Labour - we are focussing on practical solutions rather than chasing headlines."