Missed the debate? Watch the Salmond and Darling debate here
Alex Salmond and Alistair Darling clash in live STV debate from Glasgow city centre.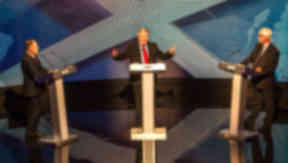 First Minister Alex Salmond and Better Together leader Alistair Darling clashed in a landmark live television clash on STV.
The debate on Tuesday was an opportunity for both sides to answer the central questions surrounding the referendum, and to win over undecided voters.
With just six weeks to go until the nation decides, the clash marked the first time the two major figures in the independence referendum had come face-to-face on television to argue their case.
Unprecedented demand meant that some viewers were unable to view the debate live on the STV Player. Here to view is each part of the debate in full:
Part One: The opening statements
Part Two: The cross-examination
Part Three: The audience questions
Part Four: The Spin Room
The debate is being repeated on STV Glasgow at 1.15pm on Wednesday.
To watch the debate in full visit the STV Player