Jim Murphy suspends referendum tour over 'Yes campaign mobs'
Labour MP says he has been called 'a traitor, quisling, terrorist and defender of paedophiles'.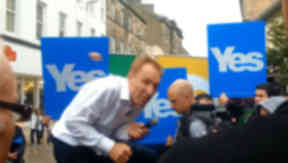 A Scottish Labour MP has suspended his referendum tour claiming there is an "angry mob atmosphere" being organised by the Yes campaign.
Jim Murphy announced the decision on Friday afternoon, one day after he was struck by an egg during a speech, and blamed a "coordinated, determined, and increasingly aggressive" campaign against him.
The Yes campaign said it condemned any abusive, dangerous or offensive behaviour.
Mr Murphy said the hecklers has accused him "of being a traitor, quisling, terrorist and defender of paedophiles".
Mr Murphy, the East Renfrewshire MP is completing a 100-day tour of Scotland, standing on a crate in town centres addressing the voters on why he believes Scotland should stay in the UK.
He said: "I'm enjoying the '100 Streets' tour. I've met many 'yet to make their up Scots' on the street corners and shopping centres across Scotland. When I started this I thought the dangers of 100-street public meetings would be Scotland's summer and the occasional Nationalist heckler. Something else is now happening. What started as individual passionate Nationalists having their say has changed into angry mobs coming along to make sure no one else has their say.
"This is not about someone throwing an egg – that's part of the sometimes messy pantomime of politics. The Yes campaign are now organising a mob atmosphere at our street meetings. It's coordinated, determined and increasingly aggressive. I'd rather be debating the currency, pensions and armed forces instead of dealing with accusations of being a traitor, quisling, terrorist and defender of paedophiles.
"It doesn't frighten me – it's not aimed at me. These meetings are public discussions about politics and, at their best, they are passionate and entertaining. People who've never been to a political meeting in their lives stand there holding their messages in their shopping bags and debating politics."
Yes Scotland insisted it was opposed to all inappropriate conduct in the referendum campaign.
A spokesperson said: "We condemn all forms of abusive, dangerous and offensive behaviour, whether it be Jim Murphy having eggs thrown at him, or Alex Salmond being harassed by a road rage motorist. For the most part, the independence debate has been conducted in a responsible, peaceful and enthusiastic manner with only a very small minority on both sides behaving badly. The eyes of the world are on Scotland and it is vital that everybody – regardless of which side of the debate they are on – helps to show off Scotland at its best."
Mr Murphy said that he had consulted Police Scotland for advice on safety and would resume his tour in three days.
He added: "It's great to see that thousands of people are taking part. But undecided voters who ask genuine questions are being interrogated by Yes campaigners. Undecided voters are also being filmed by myriad nationalist websites. There is a difference between not being in control of a handful of idiots that every political movement has and actively organising the disruption of events that makes aggressive behaviour more likely.
"We won't be silenced and undecided voters should not be intimidated. But we have taken the decision to suspend the tour for 72 hours. We have sought police advice on crowd and staff safety and further training on personal safety. We have also been forced to rotate some of our staff out of the tour."
Blair McDougall, campaign director of Better Together, has written to Yes Scotland calling on them to stop the hecklers turning up at Mr Murphy's speeches.
Mr Murphy added: "We will give Yes Scotland time to call off their mobs. Today, Better Together campaign director Blair McDougall has written to Yes Scotland chief executive Blair Jenkins urging him to act. All comers are welcome but there's a difference between a crowd and a mob. I have no problem with robust argument but there's a mob mentality being orchestrated on our streets and at our meetings."
Prime Minister David Cameron condemned Thursday's egg attack on Mr Murphy, saying: "I think the responsibility for the people doing these things lies with the people doing these things. I've always thought that it isn't right to throw eggs at people - I had one myself in Cornwall once, it's an interesting experience - and I'm sure other party leaders would take the same view.
"It's a vigorous debate with lots of argument, there's nothing wrong with a bit of heckling but throwing things isn't necessarily part of the democratic process."
First Minister Alex Salmond also denounced the egg-throwing incident.
And he said a "road rage" incident, where he was tailed by another motorist waving a No sign at him, was a "very bad example" of what could happen in political campaigns.
But he said no responsible politician should seek to take advantage of such protests, as he insisted that the overwhelming majority of Scots were "enjoying the most invigorating, scintillating, exciting debate in our political history".
After independence campaigners staged a noisy protest outside a Glasgow hotel where Mr Cameron was speaking last night, Mr Salmond stressed the "right of peaceful protest", adding that people were "entitled to demonstrate outside a white tie function, the only safe audience the Prime Minister thinks he has in Scotland".
While he said people had "every entitlement to peaceful protest" he stated: "People shouldn't throw eggs at somebody full stop, that's something that happens in elections. I remember John Prescott getting a bit energised about it in a UK election. It shouldn't happen - I don't think it's at the serious end of things - but it shouldn't happen.
"The road rage incident was a very bad example but I don't make that an issue. I don't make the death threats from a few daft people I've had an issue, because I know know 99.9% of people in Scotland are enjoying and being energised by a wonderful political debate.
"All politicians should beware, yes of course we call for good conduct, on line and off line, yes of course we do. But don't confuse the actions of a few people with the 99.9% of the people of Scotland who are enjoying the most invigorating, scintillating, exciting debate in our political history.
"And don't try to take advantage of an incident, because I certainly wouldn't, and I'm sure no other responsible politician would want to do that."