School pupils could be taught a second language from primary one
The Modern Languages Working Group has recommended that language learning begins at a younger age.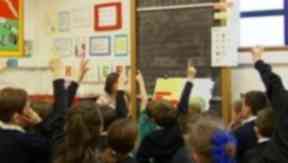 Scots children could start learning a second language from primary one under new recommendations.
A report from the Modern Languages Working Group has recommended that language learning begins when a child starts primary school.
Responding to the recommendations Minister for Learning Alasdair Allan said the Scottish Government will now explore opportunities for all young people to start learning a second language from primary one.
The report's other key recommendations include advice that learning a third language should start no later than primary five and that primary and secondary schools should work more closely together to ensure better progression in language learning.
To increase its support for language learning Scotland's National Centre for Languages (SCILT) is to receive an uplift in funding to over £600,000 in 2012-13.
As part of this, £120,000 is for pilot projects to further explore how language learning could start from primary one rather than primary six, which is when most schools currently introduce it.
Dr Allan said: "The world is changing rapidly and radically and the government has a duty to ensure that Scottish schools prepare young people so they can flourish and succeed in the globalised, multi-lingual world we now live in.
"One indisputable aspect of modern life is that more people travel widely for jobs and leisure and we must respond accordingly; we will not be as successful as a country and economy if we remain essentially a mono-lingual society.
"The Scottish Government is committed to radically improving the provision of modern languages in our schools. We see the Barcelona Agreement to the '1+2' arrangement – learning two languages in addition to the mother tongue – as key to delivering this commitment.
"This is unique within the UK and will bring us more into line with other EU member states.
"The Modern Languages Working Group has endorsed this approach, and set out a strong case that Scotland can and must do more to provide our young people with a better language learning experience.
"We already set aside £4m annually for local authorities to support modern language teaching. I invite local authorities to work with SCILT to lead the way in what I see as a radical change of approach.
"Introducing two additional languages is an ambitious goal, but these recommendations give us an excellent platform to deliver it.
"Today sees our initial response to this report and we will continue to work to raise language learning to higher levels in the years ahead."