Baby among 22 new swine flu cases
The latest include a 14-month-old baby being treated at Yorkhill's Royal Hospital for Sick Children.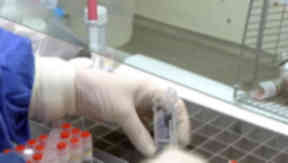 There are 22 new confirmed cases of swine flu in Scotland, bringing the total to 141.
The latest cases include a 14-month-old baby being treated at Yorkhill's Royal Hospital for Sick Children.
Health Secretary Nicola Sturgeon, who made the announcement at a news conference on Friday, expressed concern at the development but urged against alarm.
She said: "It is concerning that young children are being affected by the virus but I would stress that in the vast majority of cases their symptoms are mild. I would like to reassure parents there is no need to worry unnecessarily, however everyone should continue to follow the advice of health professionals and maintain good hygiene standards."
The baby's condition is not thought to be giving concern to doctors.
None of the new cases are travel-related, according to Ms Sturgeon. Sixteen are in the NHS Highland area, which covers Dunoon, the remaining new cases are in the Greater Glasgow and Clyde and Forth Valley health board areas.
Ten people confirmed as having the virus are in hospital. Three of those are still in intensive care at Paisley's Royal Alexandra Hospital. A 45-year-old man and a 38-year-old-woman are in a critical but stable condition. A 23-year-old woman is stable and improving.
Three patients are being treated in high-dependency units - a 37-year-old man at Glasgow's Victoria Infirmary whose condition is improving; a 44-year-old woman in the Royal Alexandra Hospital who is also improving; and a 44-year-old man at Glasgow's Southern General Hospital who is in a stable condition.
RESOURCES
World Health Organisation: Swine flu facts
World Health Organisation: Pandemic influenza phases
Swine flu - questions and answers
GPs to widen tests for swine flu in areas hit by virus
A 28-year-old-woman in the Victoria Infirmary and a 62-year-old woman at the Victoria Hospital in Kirkcaldy were due to be discharged on Friday. In addition to the 14-month-old baby, a 14-year-old third year pupil who attends Paisley Grammar School is currently in the Royal Alexandra Hospital. Her condition is improving.
Two of the confirmed cases include two healthcare workers, a 26-year-old and 27-year-old, from the Royal Alexandra Hospital.
There are currently 91 possible cases under investigation.
Ms Sturgeon said: "The number of cases in Scotland is continuing to rise and we have always said that this would be the case. This is very much in line with what is happening in other countries such as the US and in Canada.
"We are consulting experts to consider to what extent our containment strategy will need to evolve over the next few days. We are still committed to slowing the spread of the virus."
Two further schools - Lochgoilhead Primary and Dunoon Grammar - are also closing for seven days. Third year pupils from Dunoon Grammar had already been excluded from classes.
All pupils at Lochgoilhead Primary will be offered Tamiflu. This brings the total number of school and pre-school closures in NHS Highland to six - Kirn Primary, Innellan Primary, Toward Primary, Appletrees Nursery in Rothesay, Lochgoilhead Primary and Dunoon Grammar.
Third year pupils at Paisley Grammar School have been sent home for seven days. Additionally Annette Street Primary in Glasgow remains closed until Tuesday.
The Health Secretary continued: "A number of schools have now closed. These will have been subject to robust risk assessments and the situation is being kept under review."