Setanta prepares to pull the plug amid cash shortage
Sports broadcaster runs out of money and runs out of time, raising questions into Scottish Premier League's TV future.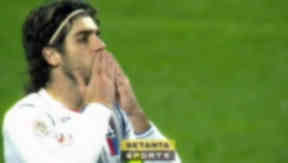 The sports broadcaster Setanta is expected to go off the air, STV news has learned, amid growing financial difficulties.
Executives for the Irish broadcaster were meeting in London into the night to plan their next move. STV understands Setanta could go into administration as early as Wednesday.
The financial problems reached a crisis level last week when the broadcaster failed to make a £3million payment to the Scottish Premier League. The SPL came to the rescue and paid their member clubs the missing funds.
Setanta's failure to pay the final instalment to the SPL could have a catastrophic effect for the 12 clubs who are heavily reliant on the £13million they share from the deal every year.
Attempts to subscribe to the channels on Tuesday - both online and by phone - were unsuccessful with a message stating that the service is temporarily unavailable, ringing alarm bells for the companies' future.
Newspaper speculation over the past week has been rife with rumours that three clubs could go to the wall as a result of the broadcaster's collapse. Not only would they be short of cash from that deal but advertisers attracted by the TV coverage could also pull out.
Gordon Smith, chief executive of the Scottish Football Association, said he would not characterise the situation as a "crisis".
He said: "We don't really know what is going on, it is an SPL broadcasting deal but obviously it is a concern if there is a problem for the league.
"We have listened to what has been going on but we have had no discussions with the SPL."
By the end of this week there could be no-one signed up to show SPL matches next season. That would make it difficult for SPL executives to find another broadcaster to match the price they were expecting from Setanta.
ESPN, which is owned by Walt Disney Co, has been touted as one of the companies that could step in - but at a much lower offer. Sky Sports, which broadcasts English football, could also take some of the sports programmes.
From humble beginnings, Setanta has become a major UK and Irish broadcaster that now shows nine different sports. Football is its most lucrative arrangement, with deals to broadcast the English Premier League and World Cup qualifiers.
The demise of Setanta will leave thousands of subscribers out of pocket, while hundreds of staff - many of them in Scotland - will be out of a job.