Chris Hoy receives knighthood
Cyclist who won three gold medals at Beijing knighted at Buckingham Palace ceremony.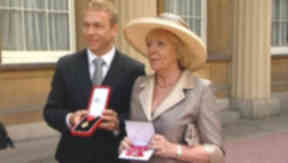 Scottish cycling legend Chris Hoy has received a knighthood at Buckingham Palace for his services to sport.
The athlete, who won three gold medals at the Olympic Games in Beijing in 2008, was named in the New Year's Honours list.
It was a family affair for the Hoys on Thursday. His mother Carol received an MBE for services to healthcare. The pair received their honour separately from Prince Charles.
**RESOURCES
**
**A brief history of Chris Hoy
**
Prince Charles knights Chris Hoy (video)

Hoy-mania as Scots cyclist wins Olympic gold treble (video)
Edinburgh pays tribute to Scottish Olympic athletes (video)
Chris Hoy and his mother top New Year's Honours list (video)**
**
Chris Hoy says that age wont stop him in the Olympics (video)
Sir Chris began his career at the age of seven, competing internationally as a BMX cyclist becoming Scottish champion and a world-ranking competitor. He concentrated on track cycling in 1994, and has been in the Great Britain cycling squad since 1996.
Before winning three golds in Beijing, he won an Olympic gold at the Olympics in Sydney in 2004, receiving an MBE in 2005.
Mrs Hoy would have missed seeing her son knighted by the Prince as she was waiting in another part of the palace to be called to receive her award, but Royal officials allowed her to watch the ceremony and have a few private words with the Olympic champion.
Speaking after receiving the MBE, Mrs Hoy said: "It's a huge honour. So many nurses do fantastic things, so to get picked out was very, very special.
"And then when we heard Chris was going to be knighted, that really blew our socks off.
"To be together at the Palace, for a mum that means everything to me."
The retired nurse played an important role in Edinburgh Royal Infirmary's sleep research department.