26-year-old Scottish tourist found dead in Spanish resort street
Craig Mallon, who was in Lloret de Mar for his brother's stag party, is thought to have collapsed after a street fight.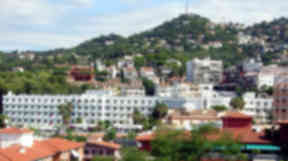 A 26-year-old Scot has died while celebrating his brother's stag party in the Spanish resort of Lloret de Mar.
The body of Craig Mallon was reportedly found in the street at 7.30am on Saturday.
Spanish police investigating the death believe Mr Mallon was earlier involved in a fight between members of the stag party and another group of tourists and later collapsed and died.
The fight apparently took place outside an all-night bar about an hour before the body was found.
No weapons are thought to have been used during the clash.
A spokeswoman for the Catalan regional Mossos d'Esquadra police force at Girona said: "We can confirm that the death of a young foreign tourist whose body was found in the street at Lloret de Mar is being investigated. At this stage we cannot say anything more about this incident or give any details of the dead man."