'Little fanfare' at funeral of Lockerbie bomber Megrahi in Libya
Abdelbaset al-Megrahi died at his home suffering from cancer.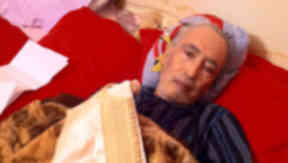 Lockerbie bomber Abdelbaset al-Megrahi has been buried in Libya.
The 60-year-old, who was sentenced to life in prison for the 1988 bombing of a US airliner which claimed 270 lives, died at home suffering from cancer, his brother Abdulhakim confirmed on Sunday.
He was buried in Tripoli on Monday at a ceremony attended by around 100 relatives and friends with "little fanfare", according to Associated Press.
The only man ever convicted of the Lockerbie bombing, Megrahi was diagnosed with advanced prostate cancer on September 23, 2008.
He was given compassionate release from prison by Scottish Justice Secretary Kenny MacAskill in 2009 because of his diagnosis with the disease.
Scottish First Minister Alex Salmond said after Megrahi's death that investigations would continue into the bombing. He added: "Mr Megrahi's death ends one chapter of the Lockerbie case, but it does not close the book.
"Scotland's senior law officer the Lord Advocate recently visited Libya, and we have been offered the co-operation of the new Libyan authorities. It has always been the Crown's position that Mr Megrahi did not act alone but with others."