Open letter slams Lockerbie bomber's conviction as 'perverse judgment'
Politicians, religious leaders and journalists say criminal justice system is a 'mangled wreck' and an independent inquiry is 'imperative'.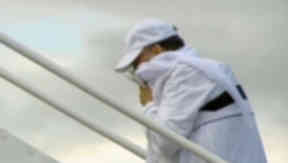 More than 40 politicians, religious leaders and journalists have signed a letter calling for an independent inquiry into the Lockerbie bomber's conviction.
The letter says the "perverse judgment" has left Scotland's criminal justice system a "mangled wreck".
It said it is "imperative" that the Scottish Government endorses an independent inquiry into the Lockerbie affair.
The call comes two days after Abdelbaset Ali al-Megrahi, the only person convicted of the Lockerbie bombing, died in Libya.
The missive, published on the Scottish Review website, is signed by religious figures including Cardinal Keith O'Brien, leader of the Roman Catholic Church in Scotland, and Archbishop Desmond Tutu.
Former BBC chief news correspondent Kate Adie, Private Eye editor Ian Hislop, former MP Tam Dalyell and author AL Kennedy are also among the 42 signatories.
The letter states: "If Scotland wishes to see its criminal justice system reinstated to the position of respect that it once held rather than its languishing as the mangled wreck it has become because of this perverse judgment, it is imperative that its government acts by endorsing an independent inquiry into this entire affair.
"As a nation which aspires to independence, Scotland must have the courage to look itself in the mirror."
Relatives of victims of the atrocity, including Dr Jim Swire, who lost his daughter Flora, and Rev John F Mosey, whose daughter Helga Mosey died, are also among the signatories.
Megrahi was sentenced to life in prison for the 1988 bombing of a US airliner over the Dumfries and Galloway town which claimed 270 lives.
He was later diagnosed with terminal prostate cancer and controversially released from prison in August 2009, with an estimated three months to live, on compassionate grounds.
But Megrahi, who always proclaimed his innocence, proved medical experts wrong and finally lost his cancer battle in Tripoli on Sunday at the age of 60, his son said.
The Scottish Criminal Cases Review Commission (SCCRC) in 2007 recommended that Megrahi be granted a second appeal against his conviction. However, the Libyan dropped it in August 2009 before his compassionate release.
Commenting on the Scottish Review letter, a Scottish Government spokesman said: "The issues now being raised relate to the conviction itself, and that must be a matter for a court of law.
"Mr al-Megrahi was convicted in a court of law, his conviction was upheld on appeal, and that is the only appropriate place for his guilt or innocence to be determined.
"As was made clear by the Cabinet Secretary in his statement to the Scottish Parliament in February, it remains open for relatives of Mr al-Megrahi or the relatives of the victims of the Lockerbie atrocity to ask the SCCRC to refer the case to the Appeal Court again on a posthumous basis, which ministers would be entirely comfortable with.
"And, of course, the Lockerbie case remains a live investigation, and Scotland's criminal justice authorities have made clear that they will rigorously pursue any new lines of inquiry."