Swine flu warning from Scottish health official
Nicola Sturgeon says number of confirmed cases in Greater Glasgow will 'likely' increase in coming days.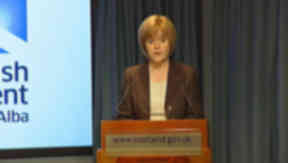 Scotland is anticipating a rise in swine flu cases "in the coming days", the Heath Secretary warned.
Nicola Sturgeon commented after only seven new cases were reported on Thursday, including six in the NHS Greater Glasgow and Clyde area. Another 319 in the health board zone are being reviewed by lab technicians.
Late Thursday health officials said nine laboratories across the Greater Glasgow health board area will be dedicated  to test for swine flu. After being assessed by NHS24 or a GP, people will receive an appointment to attend one of the test facilities.
In the past a medical specialist would visit a person's home to conduct a test. But the NHS said this practice is "no longer sustainable".
The health board stressed that people are not to use these facilities as drop-in services.
**==========================================
**
RESOURCES
World Health Organisation: Swine flu facts
World Health Organisation: Pandemic influenza phases
Swine flu - questions and answers
Swine flu - school closures in Scotland
==========================================
Ms Sturgeon said: "Laboratory testing is now resuming for all possible cases in NHS Greater Glasgow and Clyde and the number of confirmed cases in the area is likely to increase in the coming days.
"Scotland remains amongst the best prepared countries in the world to deal with pandemic flu and we are continuing to plan and prepare for any future eventuality. Where new cases are being identified, public health officials are moving quickly to treat people appropriately."
A total of 537 people have contracted the virus in Scotland. Six patients are in hospital.
More schools are reopening after a spate of closures. St Vincent's Primary in the Carnwadric area of Glasgow was scheduled to fully reopen on Friday. The composite P5/P6 class was sent home on June 11.
P3 and P7 pupils from the city's Lorne Street Primary returned to school on Thursday.
No schools in Scotland have closed because of the virus since June 12.