Nigerian man jailed for rape in Aberdeen
Ekene Anoliefo (pictured) raped one teenager and also tried to lure a 14-year-old girl back to his Aberdeen flat for sex by offering drugs.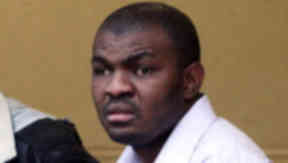 The son of a prominent Nigerian politician has been jailed for 12 years for a nine month reign of terror against women in Aberdeen.
A trial heard that Ekene Anoliefo raped one teenager and also tried to lure a 14-year-old girl back to his Aberdeen flat for sex by offering her drink, cigarettes and cannabis.
The trial heard how, last July 13, Anoliefo stopped his car, pretending to help a 19-year-old girl.
But once she was in the vehicle he refused to let her leave and drove her to his flat in Powis Place.
There the terrified teen was forced to watch porn which Anoliefo downloaded on his computer before he forced her onto a bed, pinned her down, ripped off her clothes and raped her.
On March 15 last year a 14-year-old schoolgirl was in Charles Street, Aberdeen, when Anoliefo came up to her and began making "inappropriate sexual remarks."
He tried to kiss her and touch her leg and asked for her phone number.
The frightened girl was offered alcohol and drugs if she would go home with him.
He approached other women in the streets of the city and assaulted one by pushing her against a wall when she rejected his advances.
Jailing Aloliefo, 34, at the High Court in Edinburgh, Lord Pentland branded him a dangerous predator.
"The sentence I must impose must reflect the abhorrence society feels towards towards people like you who prey on women in this way and are prepared to resort to violence for their own sexual gratification," he said.
Anoliefo, handcuffed to two security guards, listened through an interpreter, as defence QC Donald MacLeod told how he had brought shame on his wealthy family.
His father is a politician in his local state parliament, said the lawyer, and had paid for Anoliefo to come to Scotland to study computer technology to prepare him for a career in the Nigerian oil industry.
Mr MacLeod also told the court that Anoliefo still maintained he was innocent - although a jury had found him guilty of rape, assault and six breaches of the peace committed between November 2007 and July last year.
Lord Pentland also made an order that Anoliefo should be deported at the end of his sentence.