Gun ownership jumps one-fifth as firearm licence 'cheaper than TV licence'
Scottish Government wants power to limit the number of guns that any one person can own.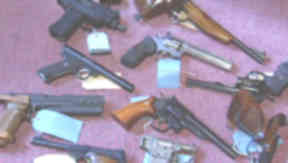 Scottish ministers want the power to cap the number of guns that can be owned by any one person after figures hit a record high.
The number of licensed firearms in Scotland has risen by almost a fifth in the last ten years but there are fewer licensed owners.
This suggests that there are more guns concentrated in fewer hands, with the average gun owner holding about three weapons each.
A Scottish Government spokeswoman said they would like to see fees reviewed amid concerns that at £50 it is cheaper to hold a gun licence than a television licence.
Justice Secretary Kenny MacAskill has now written to UK Home Secretary Theresa May to ask her to either devolve gun control to the Scottish Parliament or tighten the legislation at Westminster.
He said: "It concerns me that gun owners, even those with a legitimate need for such weapons, can accumulate multiple firearms and that there is no apparent limit to what can be held.
"It is one of the areas where the Scottish Government would, if given the proper powers over firearms in Scotland, aim to legislate to ensure that we can better control the number of lethal weapons in society and thereby help to protect and reassure the Scottish public."
There were 71,860 certificated firearms in Scotland in 2011. The vast majority (83%) of them were rifles but they also included handguns and certain shotguns capable of holding lots of ammunition.
There were also 210,799 certificated shotguns, which are categorised separately due to the limit on the amount of ammo they can hold, a rise of almost 12%.
A firearm is defined as "a lethal barrelled weapon of any description from which any shot, bullet or other missile can be discharged".
A shotgun is a smooth-bore gun with a barrel measuring at least 24in in length, without a magazine, and not possessing a revolver function.
In 2011, a record number of firearms dealers were trading in Scotland, rising three per cent to 347 from 337 at the end of 2010. However, there were just 25,831 firearm certificates on issue at the end of 2011, a record low.
The Northern Constabulary police force area contained the most firearms and shotguns per head of population. Statisticians said this was due its more rural nature, where populations are lower and employment and recreational activities may require the use of firearms.
By law, anyone who wants to own a firearm or shotgun must apply for a certificate from the Chief Constable of the force area in which they live. Those who have served jail terms of longer than three years can be prohibited from owning guns.
The laws on gun ownership were tightened after the Dunblane massacre in 1996, which saw 43-year-old Thomas Hamilton murder 16 children and one teacher in Dunblane Primary School using four handguns.
In response to the incident, the Firearms (Amendment) Acts (Nos. 1 and 2) outlawed private ownership of all handguns except war trophies, guns for the humane killing of animals, and shot pistols.