Danny Alexander welcomes £32m government funding for superfast broadband
Chief secretary to the treasury given tour of Proper Games in Dundee.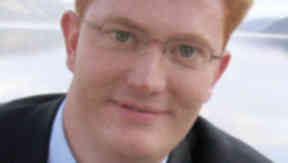 The chief secretary to the treasury has been given a tour of a computer games company in Dundee as the government announced a further £32m funding for delivering superfast broadband.
Danny Alexander chatted to staff and had a tour of Proper Games at Seabraes in the city on Friday.
His visit coincides with the government cash announcement for funding to ensure that Scotland is on track with its plans to deliver superfast broadband.
The funding is in addition to £68.8m that has already been allocated to Scotland for investment in its broadband network, taking the total to over £100m.
Mr Alexander was also due to give a speech to Dundee and Angus Chamber of Commerce.
He said Dundee was chosen for the announcement as it is a leading sector in the UK in the creative and technology industry and provides a good example of how important superfast broadband is.
He said: "In the modern world, where so much business is done online, it is essential that companies across the UK have access to decent internet connection speeds.
"This additional funding will help ensure that Scotland has the broadband infrastructure it needs to support its tech industries and business and education across the country."
Alex Neil, cabinet secretary for infrastructure and capital investment, said: "This extra £32m is a significant boost for broadband in Scotland, I am glad that the UK government have finally recognised our call for us to receive a fairer share of the funding.
"High quality digital access and faster internet speeds are a necessity for Scotland and our economy. All of Scotland's citizens should have access to and the ability to participate in the digital revolution that has the potential to transform lives, bring communities together and substantially boost our economy."
It is hoped the additional funding will allow more premises across Scotland to be given superfast connections to the broadband network, including the Highlands and Islands.