Teenager guilty of Carluke murder
Nineteen-year-old man guilty of murdering Lanarkshire man in his home.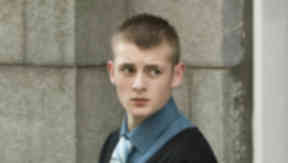 A teenager has been found guilty of a horrific murder of a man in his Carluke home. The jury at Aberdeen High Court returned a unanimous verdict of guilty after being out for just over an hour. 
Peter Allen, 19, had been on trial for the murder of Raymond Black, 48, in January 2009. He was also accused of stealing the victim's ex-wife's car and a number of other motoring offences. 
Mr Black was found lying in a pool of blood with a kitchen knife embedded in his face in his home in the South Lanarkshire town's Unitas Crescent. His two-year-old daughter's red jacket was covering his head, the youngster having been sleeping upstairs during the attack.
The court was told that he had received "multiple stab wounds" to his face and body and had been attacked with a lamp in his living room.
During the trial, a police officer described the injuries inflicted on Mr Black as "severe" and "horrific", Detective Constable Stephen Divers saying that it was the worst injuries that he had ever seen in all his years in the police.
Crime scene manager Detective Sergeant Graeme Lannigan was asked if the scene had been unusually violent, and replied by saying that it was the worst he had ever seen with "Bloodstaining in pretty much everything I could see."
Police were initially called out to attend a road traffic accident involving three cars just yards from the murder scene. One of these belonged to Mr Allen's ex wife, who confirmed that Mr Allen had borrowed the vehicle to take their daughter to his house.
Following the crash Allen went to a relative's house, in the same street as where the victim lived, telling them that he had murdered Mr Black. They persuaded him to hand himself in to police the following day.
One of the arresting officers who apprehended Allen told the court how he confessed to the killing.
PC Kate Burnett said: "He stated that - 'About Mr Black, I want to hold my hands up, it was me that murdered him.'
"He said he'd been drinking with Mr Black in his home and at some point Raymond Black had come at him with a knife.
"Allen then said Black had come at him with a knife and he had to defend himself. The next thing he knew Black was unconscious."
The jury also heard a recording of an interview between Allen and police officers, where he admitted that he had panicked and taken the car even though he could not drive.
Sentence was deferred for reports and Allen will be sentenced on July 31 at High Court in Edinburgh.
Resource: Mr Black's family share their thoughts on the verdict