Rangers liquidation now inevitable after CVA bid rejected by HMRC
Ibrox club had offered those owed cash a reduced payment deal funded by £8.5m loan.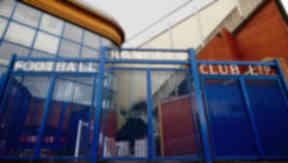 Rangers have failed in their attempt to offer creditors a pence in the pound deal after Her Majesty's Revenue and Customs (HMRC) indicated it would reject it.
The Ibrox club had offered those owed cash a reduced payment deal funded by an £8.5m loan from a consortium led by Charles Green.
On Tuesday, administrators Duff and Phelps confirmed they now expected HMRC to refuse the deal at a company voluntary arrangement (CVA) vote on Thursday afternoon.
Mr Green has previously stated that should the CVA fail his offer goes into an "automatic mode" to carry out a 'newco' switch at the Ibrox club, where all assets are sold to a new business entity for £5.5m and Rangers FC plc, incorporated in 1899, is liquidated.
Mr Green said he was "hugely disappointed" by the rejection of the CVA proposals by HMRC, which is currently owed around £21m in unpaid VAT and PAYE dating back to Craig Whyte's May 2011 takeover.
He also told STV News that he felt he had been "led along" by the tax authorities in dialogue on the CVA deal. The Yorkshireman claimed that he was "confident" Rangers would be playing in the Scottish Premier League (SPL) next season, despite uncertainty over whether clubs will vote in favour of an application from a newco club.
The leader of the Sevco consortium stated that he was unaware it was HMRC policy to rejected creditor pay-off proposals on the grounds that there has been historical non-payment of tax. On its website, HMRC states that among some of the "exceptional reasons" it would reject a CVA is that a company has "funded their business or lifestyle by consistently withholding Crown monies" such as tax.
The former Sheffield United chief executive added: "Frankly, I do not see what benefit will be achieved by this decision. My consortium's offer for a CVA amounted to a total of £8.5m. Now that we will have to complete the purchase via the formation of a newco, the purchase price and therefore the amount available to creditors will be £5.5m.
"I can understand HMRC deciding that football clubs which do not pay their taxes need to be punished, but by effectively banning Rangers from Europe for three years all that will happen is that there will be less revenue generated by the club and consequently less money paid over to the taxman."
HMRC is also awaiting the settlement of the 'wee' tax case for an estimated £3m relating to the use of a tax dodging discounted options scheme to pay players Tore Andre Flo and Ronald De Boer between 2000 and 2003.
Currently, the club is awaiting the outcome of the First Tier Tribunal in the 'big' tax case over the illegal use of an employee benefits trust (EBT) to pay players and staff between 2001 and 2010 that could result in the club being hit with a tax bill of up to £75m.
Neutral insolvency
HMRC had previously agreed with Duff and Phelps to appoint neutral insolvency firm BDO should Rangers be liquidated. This came after the administrators had asked creditors to appoint them as liquidators should the CVA fail.
Paul Clark, joint administrator, said: "The reasons HMRC have given to us for their decision to vote against the proposal are as follows. HMRC has cited its general policy of not agreeing to a CVA where there is strong evidence of non-compliance by a company with its tax liabilities.
"HMRC had agreed to consider a CVA proposal along with all other options in the case of Rangers but having taken into consideration the extent of funds which will be made available to creditors through the CVA option, they have decided that it is not acceptable given The Rangers Football Club plc's level of indebtedness to HMRC.
"It has also been made clear to us that other offers tendered for the club, which took the form of a CVA, would have been treated in the same way and that the rejection is not a reflection of the Green consortium bid. HMRC has taken the view that the public interest will be better served with the liquidation of The Rangers Football Club plc as a corporate entity. The club will continue to operate as it has always done but within a new company structure."
On Tuesday, a HMRC spokesman said: "A liquidation provides the best opportunity to protect taxpayers, by allowing the potential investigation and pursuit of possible claims against those responsible for the company's financial affairs in recent years. A CVA would restrict the scope of such action. Moreover the liquidation route does not prejudice the proposed sale of the club. This sale can take place either through a CVA or a liquidation.
"So the sale is not being undermined, it simply takes a different route. Liquidation will enable a sale of the football assets to be made to a new company, thereby ensuring that football will continue at Ibrox. It also means that the new company will be free from claims or litigation in a way which would not be achievable with a CVA. Rangers can make a fresh start."
Binding contract
Administrator Mr Clark added that now the "binding contract" with Mr Green to complete a newco switch would take place "within a few days" of Thursday's meeting of creditors where the CVA proposals will fail.
He continued: "As soon as the CVA proposal is formally rejected, Mr Green's consortium will move towards completion of an acquisition of the business and assets of The Rangers Football Club plc. That transaction will be completed within a few days.
"The sum payable to creditors will be £5.5m, most of which has already been paid over to us by the Green consortium. Over the coming months, we as administrators will continue to finalise the administration of the club and we will work in conjunction with BDO who will undertake the liquidation process.
"We would like to thank the staff and supporters at Rangers for their great determination and professionalism during a very difficult period for the club. While the club will continue to face difficulties in the short term, it will survive and continue to play at Ibrox."
Duff and Phelps last month estimated they would earn £3m from the insolvency job, while liquidators are set to earn at least £1m for dissolving the company.
Mr Clark told STV News that he does not see any legal challenge to the sale coming from current owner Craig Whyte, liquidators in waiting BDO or HMRC.
He said the liquidators will be appointed once the £5.5m has been transferred to Rangers FC plc in exchange for the club's assets that will be owned by the newco.
Last week in an interview with STV News Mr Green indicated that some of the "20 individuals and families" backing his consortium preferred either an CVA route or a newco. It is not yet clear whether the failure of the preferred exit from administration will now hamper the takeover by the Sevco consortium.
Mr Green is currently listed as the sole director of Sevco 5088 Limited, which is now the likely newco Rangers in waiting. It is registered to the London offices of the lawyers advising the takeover and was incorporated this year.