Donations to Scots charity surge past £45,000 in wake of girl's blog storm
Martha Payne has been taking pictures and reviewing her school meals for her blog.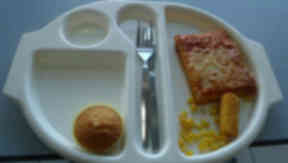 A nine-year-old girl whose school meals blog caused an internet storm has raised more than £40,000 in a single day to feed children in the third world.
Martha Payne gained worldwide attention with her NeverSeconds blog, which she set up six weeks ago to show photographs of the food served at her primary school in Lochgilphead, Argyll.
When the council told her she could no longer take photos in the school canteen it sparked a wave of outrage on social networking website Twitter, causing the local authority to reverse its decision.
At the same time, donations to the Mary's Meals charity through Martha's Justgiving page leaped from less than £3,000 on Friday morning to more than £45,000 by the end of the day.
The Dalmally-based charity, formerly known as Scottish International Relief, provides school meals for children living in impoverished countries.
A spokesman said Martha had already raised enough money to build a kitchen shelter for a school in Malawi as well as enough food for a year.
"Martha's support for Mary's Meals has been amazing and we are extremely grateful for everything that she has done to help us reach some of the hungriest children in the world," he said.
"We are overwhelmed by the huge response to her efforts which has led to so many more people donating to her online donation page.
"She has broken the record for hitting a Sponsor A School online fundraising target in the quickest amount of time."
Online backlash
On Thursday a message was posted on Martha's blog, which had already gained two million hits, marked Goodbye after her head teacher told her she was no longer allowed to take pictures in the school canteen.
After the move sparked a ferocious online backlash, Argyll and Bute Council leader Roddy McCuish confirmed in a radio interview on Friday that the local authority was backtracking on its decision.
He told BBC Radio 4: "There is no place for censorship in Argyll and Bute Council. There never has been and there never will be.
"I have just instructed senior officials to withdraw the ban on pictures in the school dining hall. It's a good thing to change your mind and I have certainly done that."
This came after the initial ban on Martha of taking photos of the food served at her school canteen came under intense criticism on social media site Twitter.
The pictures also earned her support from the likes of Jamie Oliver and Nick Nairn and hundreds of outraged replies from visitors who were shocked by the pictures of food served up at her school in Lochgilphead, Argyll.