Excitement as killer whale pod spotted five metres from shore
Onlookers at Scrabster, Caithness, were able to see the orcas.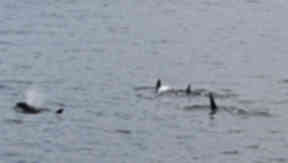 Residents in the Caithness village of Scrabster have had an unusually close encounter a pod of killer whales.
It is believed the mammals came close to the shore while chasing mackerel.
At one stage the water was said to be "boiling" with the orcas, which swam to just five metres from the shore.
The spectacle on the north coast drew hundreds of excited onlookers.
Karen Munro, from Scrabster, who has recorded sightings for monitoring unit and charity Sea Watch for seven years, said: "I have never seen even harbour porpoises that close in to the harbour. The water in the harbour was said to be 'boiling' when the killers passed Thurso.
"There were also lots of gannets and other fish eating birds around so we think they were driving a shoal of mackerel before them!"
She was first alerted to the group by her stepson, a local lifeboat man, who had seen the mammals in Dunnet Bay. She followed the group, a sub adult male, two females, a juvenile and a calf, along the coast around Thurso to Scrabster.
At one point the pod swam through a group of yachtsmen and women from the Pentland Yacht Club, and at another it was so close into the harbour that hundreds were able to stand and watch.
Ms Munro added: "The harbour was busy with holidaymakers and locals and there was a real sense of excitement. We have heard of killer whales so close in to the shore in the Shetlands, but they have never been this close in to the mainland here. I have been watching killer whales in Caithness since 2006, but this was really exceptional!"