Campaigners welcome plans to drop Subway photography ban
Campaigners have welcomed an announcement by SPT that a ban on photography is to be dropped.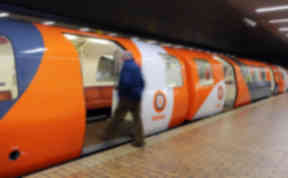 A proposed ban on photography on Glasgow's Subway is to be dropped.
A public consultation on plans to ban photography closed on Friday and a spokeswoman for Strathclyde Partnership for Transport (SPT), who run the Subway, has said they would "continue to welcome" photography in future.
More than 200 people responded to plans to change the rules on photos and SPT have said that it was "safe to say" that most of these "didn't like" the idea of outlawing photographs.
The U-turn has been welcomed by campaigners from Picture our Subway who labelled the move as "draconian".
The campaign was backed by MSPs and the website attracted 3500 views.
David Bennett, of Picture our Subway said: "This is a fantastic development. We've said all along that photography isn't a danger to the Subway at all and it's great to see this is now being acknowledged by SPT.
"It's been great to see the really wide-ranging responses submitted to the consultation which showed that people simply didn't want this ban to come into force - and I'm delighted that SPT has seen sense.
"We've gained support from MSPs and councillors as well as professional photographers, keen amateurs and people from all walks of life - some from Scotland and many from elsewhere in the world, too.
"I'm hopeful that the councillors on SPT's board will now agree with the recommendation from their officials."
The plans to ban photography were part of moves to update the Subway's bylaws which had not been changed since 1980.
A spokeswoman for SPT confirmed that flash photography would still be outlawed as it can be dangerous for drivers and staff.
The spokeswoman said: "SPT would like to thank the many people who took the time to respond during the consultation period.
"As a result SPT is likely to recommend to our partnership board that photography should not be banned on the Subway. Responsible photography is something we continue to welcome and we will be revising our conditions of carriage to reflect that.
"We also recognise that the initial proposals were written at a time when there were real concerns over transport security but did not predict the huge uptake in social media and availability of handheld devices, with a built in camera, which many of our customers use."