Helicopter manufacturer Eurocopter clears Bond over North Sea ditching
Fourteen people were rescued when a helicopter ditched 30 miles east of Aberdeen last month.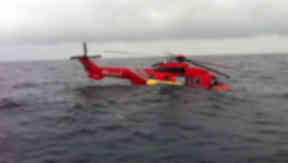 The manufacturer of a Super Puma helicopter which ditched in the North Sea says early investigations suggest operator Bond was not at fault.
Two crew and 12 passengers on board the aircraft survived after the ditching 30 miles east of Aberdeen last month.
Eurocopter say they have found no operational or procedural error and praised the Bond crew for their professionalism in dealing with the incident.
The Eurocopter statement said: "The preliminary findings have shown that the incident was caused by a rupture of the shaft driving the two lubrication pumps, thus explaining the total loss of main gearbox oil pressure.
"At this stage of the investigation, neither procedure failure nor human error by Bond have been identified as a potential contributor to the cause of the incident.
"The Bond aircrew demonstrated their professionalism and skill in handling this incident, in accordance with the EC225 flight manual emergency procedure, which along with the excellent behaviour of this aircraft in the ditching situation prevented any loss of life."
Malcolm Paine, managing director of Bond Offshore Helicopters, said: "We are grateful to receive Eurocopter's statement which supports the preliminary view that the controlled ditching on May 10 was a result of a mechanical failure.
"Importantly, Eurocopter have recognised the professionalism and skill of Bond aircrew in handling the incident.
"We fully support Eurocopter's efforts to understand the root cause of the failure and will continue to work with them and the authorities to ensure the continuation of safe operations for our customers and our crews."