Syria-bound Russian 'arms' ship turns back after being halted near Scotland
The MV Alaed was effectively halted in its tracks near to the Outer Hebrides.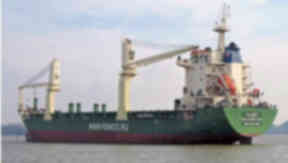 A Russian cargo ship forced to stop around 50 miles off the coast of Scotland over concerns it is carrying helicopters and missiles for the Syrian regime has "turned back".
The MV Alaed was effectively halted in its tracks near to the Outer Hebrides on Monday over UK Government's concerns that it was carrying arms for Syria.
Its insurer, the Standard Club, confirmed it had immediately withdrawn cover for the ship once UK authorities informed it of allegations that the ship was carrying munitions bound for President Bashr al-Assad's regime came to light.
It also withdrew insurance cover for seven other ships owned by the Russian shipping firm Femco in response to the incident.
On Tuesday afternoon, UK Foreign Secretary William Hague addressed the situation in the House of Commons.
He said: "I'm pleased to report that the ship reported to be carrying arms to Syria has now turned back apparently towards Russia."
According to ship tracking websites, the Alaed was last recorded under way less than 55 miles off the coast of the Port of Ness village in the Isle of Lewis.
In a statement, insurers Standard Club said: "We were made aware of the allegations that the Alaed was carrying munitions destined for Syria. We have already informed the ship owner that their insurance cover ceased automatically in view of the nature of the voyage."
According to data received from the ship by Maritime Traffic website, the Russian vessel had launched from the Swedish port of Helsinborg and had a final destination of the Russian city of Vladivostock with an arrival date of July 24.
A spokesman for the Foreign Office said: "We are aware of a ship carrying a consignment of refurbished Russian-made attack helicopters heading to Syria.
"The Foreign Secretary made clear to Russian Foreign Minister Lavrov when they met on June 14 that all defence shipments to Syria must stop. We are working closely with international partners to ensure that we are doing all we can to stop the Syrian regime's ability to slaughter civilians being reinforced through assistance from other countries."

View MV Alead in a larger map