Scots students have the lowest student loan debt of all nations in UK
The average student debt, at the point of repayment, is less in Scotland than elsewhere in the UK.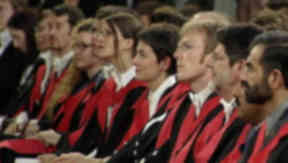 Scottish students have the lowest student loan debt in the UK.
Figures by the Student Loans Company show that the average student loan debt for Scottish former students who have become liable to pay their loan back is £6480.
The sum is less than half that of the student loan average for England, which stands at £17,140, and just under half that of the figure for Wales, which was £13,650. The Northern Ireland average was £15,880.
Education Secretary Michael Russell said: "Students and parents have been assured for sometime that higher education is and will remain free for Scots studying in Scotland.
"We also have a generous package of student support - two clear reasons for our students having the lowest debt levels in the UK.
"But we want to do more and that's why we are working to deliver a minimum income of £7,000 a year for the most vulnerable students.
"I also recognise that more families are under financial pressure, so my aim is to improve the support available to all students.
"It is also important that students who do need to borrow extra money for their studies, are aware that a student loan is the most cost effective option."
Student loans are repaid typically when the borrower is earning and repayments are on average between £410 and £780 a year.
The announcement was welcomed by the National Union of Students. Robin Parker, President of NUS Scotland, said: "For Scottish graduates entering a difficult job market, the fact they are liable to repay only half what students from Wales and Northern Ireland owe, and close to three times less what students from England will have to pay back, must be a welcome relief.
"The already huge gulf in student debt between Scotland and the rest of the UK is even more stark as it does not yet reflect Westminster's shameful decision to triple tuition fees.
"We hope that the Scottish Government's welcome commitment to introduce a minimum student income of £7000 for the poorest students will go some way in reducing student debt in Scotland even further. "