Captain Calamity sets sail again
Padraig Henry, aka Captain Calamity, had to be rescued twice from Loch Ness in April.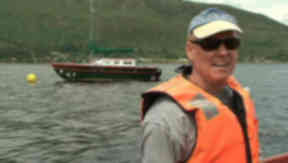 A yachtsman who had to be rescued twice from Loch Ness is finally continuing his journey to Ireland, three months late.
Padraig Henry, dubbed Captain Calamity, purchased his 21 foot yacht in Inverness but during his maiden sail south on Loch Ness in April he lost the power of his outboard engine and had to drop anchor.
The RNLI Loch Ness went to his aid and after some local waterways advice sent the Irishman on his way again. However, almost immediately on leaving Urquhart harbour, he ran aground and had to be rescued again by the RNLI.
He eventually made it safely down the Caledonian Canal to Banavie, and moored the yacht off the town in Loch Linnhe while he returned to his job as a college caretaker in London.
Having replaced an engine, Captain Calamity has set sail again. However colleagues onshore are nervously watching his progress.
Padraig told STV he would prefer to have an experienced shipmate to join him on the homeward venture but admitted so far he had been unsuccessful in recruiting a deckhand.
And having incurred the wrath of his wife following his last escapade – he has been warned not to get into bother on the last leg of the adventure.
His wayward sail will take past Oban and Campbeltown before the risky crossing of the Irish Sea.
Thankfully, the relevant authorities have been notified that he has taken to the water again.