Rangers crisis: Ibrox season ticket renewal money held by 'oldco'
Sevco claims the renewal money will be transferred to the new company in 'due course'.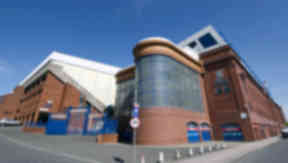 Ibrox season ticket renewal money is being paid into and held by the soon-to-be-liquidated 'oldco' Rangers.
The Sevco group that formed a new business entity to purchase the club's assets confirmed it is using Rangers FC plc, incorporated in 1899, to receive any season ticket renewal cash paid over.
Rangers claim the money is being held by the old company, which is still under the control of administrators Duff and Phelps, and will be later transferred to new business entity, Sevco 5088 Limited, as part of the deal reached with the consortium led by Charles Green.
Direct debit payments for around 30,000 season tickets are being processed after renewals were sent out by the club on June 8.
A spokesman for Rangers said: "The season ticket renewal direct debits have been operated within the old company until they are transferred to the new company in an ongoing process that will be completed in due course."
Mr Green previously stated that the season ticket renewal cash was not being used to fund his consortium's takeover and that it would be ring-fenced and held in a "secure" account.
In the failed company voluntary arrangement (CVA) proposal, Duff and Phelps sought those owed money to approve that all season ticket sales and player transfer cash to be held in a bank account by their English solicitors Taylor Wessing. They sought creditors permission to the exclude this money from the payout pot, while they also stated in the CVA proposal that they may seek Sevco's approval to use the cash to meet "trading costs" should the club have successfully agreed the pence in the pound plan.
On Thursday, the Rangers' Fans Fighting Fund released a statement after its representatives had met with newco chief executive Mr Green and chairman Malcolm Murray.
In a statement the fund said it had "received satisfaction on the future security of the property assets, forward flow funding and the ring fencing of season tickets for the good of the club."
The fund, which is led by former player Sandy Jardine and at was launched by ex-manager Walter Smith, said it "would encourage fans to renew their season tickets at this time to demonstrate our support for our manager Ally McCoist his management team and our players."
On the back of the meeting, the fund called on supporters to "show solidarity for the club".
Mr Green added: "I can reassure all fans that season ticket money will be ring-fenced in a secure account and will not be used before the current issues surrounding the club, such as what league we will be playing in, are resolved."
Mr Green's consortium, which is backed by investment banking operation Zeus Capital and Scottish golf clothing firm Glenmuir among others, paid £5.5m to buy the club's assets, cover the £3m fees of Duff and Phelps and an estimated £1m for the future liquidators of Rangers FC plc, BDO. According to the CVA proposal document, this money will be supplemented by around £2m in outstanding transfer fees owed to Rangers and the cash at bank.
According to the administrators, who were appointed on February 14 after the club had failed to pay around £14m in PAYE and VAT to HMRC following Craig Whyte's May 2011 takeover, around 37,900 season tickets were sold at Ibrox for the 2011/12 season.
Mr Whyte used future season ticket sales to secure £25.3m from London firm Ticketus to effectively fund his takeover by wiping out the club's £18m debt to Lloyds Banking Group.