Dalai Lama arrives in Scotland for two-day tour in three cities
His Holiness was met by crowds who defied pouring rain outside his Edinburgh hotel.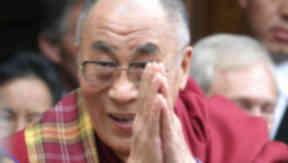 The Dalai Lama has arrived in Scotland for a two-day tour which will see him give public talks in three cities.
A crowd waited in the rain outside a hotel in Edinburgh city centre to greet the Tibetan spiritual leader, who will also visit Dundee and Inverness promoting his message of non-violence, compassion and universal responsibility.
His visit to Scotland comes as part of a nine-day tour of the UK, which has already seen him visit Leeds, Manchester and London, where he gave an address at Westminster Abbey.
The 76-year-old will hold a private viewing of archive material about Tibet at the National Library of Scotland tomorrow morning before delivering a talk at the Usher Hall with the theme Beyond Religion: Ethics for a Whole World.
He will then visit Dundee, where he will give the Margaret Harris Lecture on Religion at the city's Caird Hall.
On Saturday, he will visit Inverness and give a public talk at Eden Court Theatre with the theme: "Be the change".
The Dalai Lama won the Nobel Peace Prize in 1989 and was awarded the £1.1m Templeton Prize last month at St Paul's Cathedral in London for his engagement with science and people beyond his religious traditions.
He has lived in exile in Dharamsala in northern India since 1959. He passed the political leadership of exiled Tibetans on to an elected prime minister last year but remains the spiritual leader of the Tibetan community.