Bug outbreak ship passengers return home
Passengers given choice to return by train as Marco Polo to return to south of England.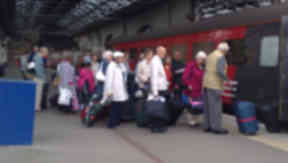 Passengers from the cruise vessel at the centre of a winter vomiting bug outbreak have spoken of their disgust at the handling of the incident.
Around 120 holidaymakers were bussed from the Marco Polo, which was berthed at Invergordon, to Inverness railway station to board a specially chartered train to London.
One passenger described the ordeal as, "like escaping from a hospital prison ship - just sitting waiting to get ill".
Many felt ship staff were as much in the dark about the developing situation as the passengers were. But some admitted becoming frustrated with the lack of information filtering through to holiday makers.
Three passengers are still in hospital in Inverness after falling ill and another three have been discharged. Over three hundred passengers and crew were showing symptoms and were being treated on the ship.
On Thursday, NHS Highland confirmed that samples taken from the afllicted ship confirmed the bug as norovirus.
The vessels operators Transocean Tours could face legal action after it emerged they failed to tell London authorities of a previous outbreak of illness on an Icelandic trip just before the vessel set off for Scotland.
On Tuesday the firm terminated the journey after 400 people had fallen ill.
One man, 74-year-old Roy Sillett from Norwich, died of an apparent heart attack on Monday - though his death is believed to be unrelated to the bug.
The remaining 600 passengers will return to Tilbury, South Essex on board the ship along with the crew, but not all are happy about it.
One said: People are walking around when they've been sharing a cabin with people that have got the infection…then they say you should all be in your cabins…they should have said that days ago.
"We told them on Sunday night they had a serious problem and we said in 48 hours you are going to be in big trouble but they refused to listen".
Among the passengers was a specialist control nurse who tried to advise the ship's management on how to deal with the outbreak.
She said: "I went to see management to try to give them some advice because they were obviously mishandling it totally, allowing people to wander round the ship in an infectious state. You shouldn't actually be de-isolated until 48 hours after your last symptoms".
Passengers deemed unfit to travel will remain on board the ship to be cared for until they have recovered and will be sent home once they are better.
The vessel will set sail from Invergordon at around 10pm on Thursday and will take two days to reach Tilbury. While the journey will be over for the passengers on board, the issues of refunds, possible compensation and what action may be taken against its operators might only be beginning.