Yes Scotland chief urges 'passion and integrity' in independence debate
Blair Jenkins said constitutional discussion should be free of 'Punch and Judy confrontations'.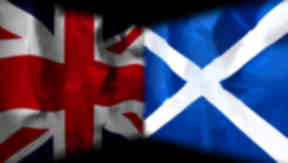 The debate over the Scottish independence referendum should be "free from Punch and Judy confrontations", the new chief executive of the Yes campaign has said.
Blair Jenkins, whose appointment was revealed on Thursday, pledged that the attempt to persuade voters to back independence in the referendum planned for autumn 2014 will be "run with passion, discipline and integrity".
Mr Jenkins, a former head of news and current affairs at both STV and BBC Scotland, said: "Our guiding principle will be to provide high quality information to the greatest number of Scots so that they can make an informed choice in 2014.
"Now that both sides have launched their campaigns, I sincerely hope we can have a sensible and mature debate free from Punch and Judy confrontations. I want to run a campaign that all of Scotland can be proud of."
Mr Jenkins made the comments days after former chancellor Alistair Darling launched the Better Together campaign that aims to keep Scotland in the United Kingdom.
Mr Darling, a Labour MP, warned on Monday that the decision made in the referendum will be "irrevocable", saying: "If we decide to leave the United Kingdom, there is no way back."
Meanwhile, former Labour MP Dennis Canavan has been made chair of Yes Scotland's advisory board. More details of the role of the board and its members will be disclosed in the next few days.
Mr Canavan said he looks forward to working with Mr Jenkins because he has the "skills, experience and commitment to meet the challenge ahead".
Yes Scotland will be based in Glasgow, with several city centre sites being considered for its headquarters.
Mr Jenkins, also a former director of broadcasting at Scottish Television and who chaired the Scottish Broadcasting Commission, said his career had been focused on "impartial journalism".
He said: "I'm not a member of any party and I've never engaged in any form of political activity. But this is just too important. This is a once-in-a lifetime campaign for me personally and for the people of Scotland. They will be asked to make the most important decision for the future of our nation in more than 300 years and I am totally committed to ensuring they have the best possible information to help them make the right choice.
"The Yes Scotland campaign is the people's and the people's referendum. It will be represented and supported by people from across the political spectrum and none. It will not be dominated by party politics."
SNP Campaigns Director Angus Robertson said:"I congratulate both Dennis and Blair on their appointments to key positions in the Yes Scotland campaign.
"Dennis is one of Scotland's most distinguished and respected political figures, and I can think of no one better to bring together the broad civic movement across Scotland which will campaign for the Yes vote to deliver an independent Scotland.
"Blair has made a significant contribution to Scottish journalism, and he is determined that over the next two and a half years Scotland can have an open and informed debate about our constitutional future.
"This referendum is the biggest opportunity for Scotland in three hundred years, and I am delighted that the Yes Campaign is putting such a strong team in place to deliver a Yes vote, securing a better future for the people of Scotland."