Watch a live stream of Scotland Tonight: Scotland's current affairs show
STV's nightly current affairs show hosted by John MacKay and Rona Dougall.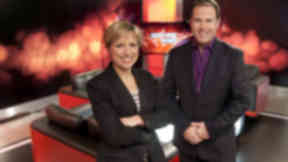 STV is showing Scotland's nightly current affairs programme live online every night.
The programme presented by John MacKay and Rona Dougall is available to viewers throughout the UK.
It features the most topical political and cultural subjects of the day — and most importantly we want to hear your comments and views.
The live stream will appear on this page shortly before the programme starts. You can join in with the discussion in the studio using social media on Facebook or on Twitter using the hashtag #scotnight.
This stream is available for desktop and iPad users. Mobile users should switch to the standard desktop version of the site to enjoy the stream.
You can catch up with the latest programme on the STV Player for 24 hours and then all the discussions on the Scotland Tonight website.
You can follow and join in the discussion in the studio using the box below: