Hall's closure: The impact on the Scottish pig farming industry
With the factory taking 75% of the pigs from Scotland, contracts would be lost.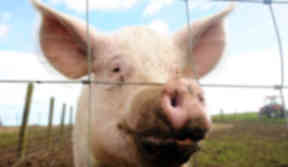 The closure of the Hall's meat processing plant in West Lothian would have a huge knock-on effect for Scottish pig farmers.
With the factory in Broxburn taking 75% of the pigs from Scotland, contracts would be lost to an industry that is already struggling with an increase in the cost of feed.
Despite the bleak outlook, farmers are hopeful other contracts would be increased and that the abattoir at Hall's would remain open.
Philip Sleigh has 2000 pigs at his farm in Oldmeldrum in Aberdeenshire. Most of these are sent to Hall's through a contract with Asda.
The chairman of the NFU Pigs Working Group, he is hopeful talks will resolve the situation.
He said: "Obviously we are deeply disappointed that potentially it will be closed. We hope that over the consultation process things can be altered and changed and there will be a happy outcome for the pig industry and the workers at the plant.
"It takes a high percentage of Scottish pigs; we have some huge contracts, our pigs are in demand and we would like that to continue. We go forward and hopeful the market for pigs will continue."
He is worried that the added pressure of the plant's closure will lead to famers leaving the industry.
Mr Sleigh said: "At the moment the challenge we have is the price of feed is rising. This on top of that may persuade people they have had enough of the industry.
"If the abattoir could be kept open a little longer that would allow a transition period and allow us to find alternatives."