Heavy rain and flooding warning in east as wet weather continues
Flooding is expected to return to south-east Scotland following heavy and persistent rain.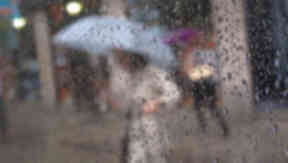 More flooding is expected in the east of Scotland as heavy and persistent rain returns on Tuesday.
South-east Scotland will bear the brunt of the worst weather which is likely to cause more excess surface water and flooding problems.
Edinburgh has been issued with an amber weather warning from the Met Office for Wednesday with a possibility of 50mm of rainfall.
The Borders, Lothian, Central, Tayside and Fife have a yellow alert for Tuesday and Wednesday.
The forecast comes just three days after major flooding in the capital which affected up to 40 properties in the Stockbridge area with some residents unable to return to their homes for months.
STV's weatherman Sean Batty confirmed that persistent rain was predicted for Tuesday and overnight into Wednesday.
He said: "The heaviest and most persistent rain can be expected across central and south-eastern areas of the country where flooding is likely. A few inches of rain are likely to fall over parts of Edinburgh, Lothians, Fife, Falkirk, Clackmannanshire, Stirling, Tayside and the Borders during Tuesday and Wednesday.
"With high water tables in eastern areas after such a wet start to summer, the additional rain from this event will lie on the surface and create flooding. Low-lying fields and streets with bad drainage are the most prone areas for flooding.
"Drivers may find driving tricky tomorrow with a lot of surface water expected on the roads. Visibility will be severely reduced, especially on motorways, and my advice to motorists would be to allow extra time for journeys and drive with extra care.
"Commuters travelling on the M9, M80, M90 and the eastern end of the M8 on Wednesday may find driving particularly bad in the morning rush-hour."
Councillor Andrew Burns, leader of the City of Edinburgh Council, said: "With more rain forecast over the next day or so, the council is taking steps to protect residents' homes and properties. In Stockbridge we are working with the contractor to make the temporary flood defences at the Water of Leith more robust. Sandbags have been given to residents in this area whose homes may be at risk of flooding.
"Across the city we are also shoring up defences and will be deploying sandbags as a precaution. Council teams are on standby over the next few days to respond to any incident of flooding.
"We would ask everyone to remain vigilant and ensure they take all the necessary precautions to protect themselves and their property."
In addition to the heavy rain in the east there is also the risk of localised flooding in the west including Lanarkshire and Glasgow on Wednesday afternoon.
However, later in the week the wet weather is expected to ease off.
Sean added: "From Thursday showers should be easing off with a good deal of dry weather around. This should hopefully allow the rainwater time to soak into the ground before more rain comes in later next week."
More than three months worth of rain fell in June alone at the Edinburgh Royal Botanic Garden which was the wettest place in Scotland that month.
Pic: Ed Yourdon