Poll: Half of Scots want same-sex marriage decision to go to referendum
The Scottish Government is expected to publish the results of its consultation on the issue next week.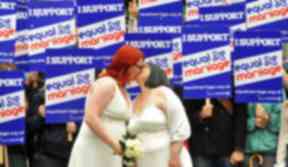 Half of Scots believe the issue of whether to legalise same-sex marriage should be decided by a referendum, according to a poll.
The ComRes survey, on behalf of the Scotland for Marriage group, showed that 50% of people want the matter to be decided by a nationwide referendum rather than the Scottish Parliament.
The poll of more than 1000 adults across Scotland found that 39% believed it should be decided by Holyrood while 12% said they did not know.
ComRes said that the figures from the survey may not add up to 100% due to rounding.
The survey also found that 55% agreed that "marriage should continue to be defined as a life-long exclusive commitment between a man and a woman" while 38% disagreed and 7% did not know.
The Scottish Government is expected to publish the results of its consultation on the issue next week. Currently, the law in Scotland allows civil partnerships between couples of the same sex.
Proposals to legalise gay marriage resulted in the biggest response to any Government consultation and ignited a debate between gay rights supporters and the Catholic Church.
A Scotland for Marriage spokesman said: "When an honest poll is taken, most people in Scotland say they want to keep marriage as it is.
"Half of Scots say gay marriage should be decided by the people in a referendum, only a minority want to leave it to the politicians at Holyrood.
"We are confident that most respondents oppose the plans and we hope the Scottish Government will not ride roughshod over their wishes."
Meanwhile, the group has lodged a complaint with polling industry watchdog the Market Research Society (MRS) over a YouGov poll for Stonewall Scotland.
The survey found that two-thirds of people supported legalising same-sex marriage but Scotland for Marriage said it believes the poll broke the rules set out by the MRS in its guidelines.
Colin Macfarlane, director of Stonewall Scotland, said: "Stonewall Scotland's recent research into Scottish attitudes towards lesbian, gay, bisexual and transgender people was conducted and approved by YouGov, one of the most reputable and well-known polling organisations in the world.
"We worked closely with YouGov at every stage of the process to ensure that our data was unbiased and gave an accurate representation of public attitudes towards same-sex marriage.
"This slur by the Scotland for Marriage campaign smacks of desperation by an organisation which knows that the public opinion is against them. We know that the majority of Scots support equality."