Man accused of murdering woman who plunged to death from multi-storey flats
Nicholas Conning allegedly placed woman 'in such a state of fear and alarm that he caused her to fall'.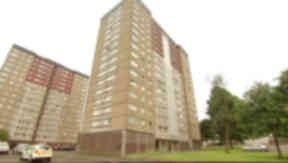 A man has appeared in court on a murder charge following the death of a woman at multi-storey flats in Dundee.
Jennifer Findlay, 46, died after falling from the fifth floor at Elders Court in the Lochee area of the city on Thursday.
On Monday Nicholas Conning, 44, appeared at Dundee Sheriff Court accused of assault to injury and murder.
The charge against him alleges that on July 12 at 5B Elders Court, Dundee, Conning seized Ms Findlay and locked the flat's front door to prevent her escape.
It is also alleged that he placed her in such a state of fear and alarm that he caused her to fall from the fifth floor window causing her such serious injuries that she died and that he murdered her.
A second charge alleges that at an earlier date, July 1, at the same address, he assaulted her to injury by punching her on the face.
He made no plea or declaration during his brief appearance in private and on petition in front of Sheriff Thomas Hughes.
His case was continued for further examination and he was remanded in custody.
Paramedics went to the flats shortly before 9pm on Thursday but were unable to save Ms Findlay and she was pronounced dead at the scene.
Tayside Police has renewed its appeal for witnesses and asked for anyone with mobile phone images or footage to come forward.