'Frankenstein' mummies among the discoveries by archaeological team
The two 3000-year-old mummies were assembled with body parts from several corpses.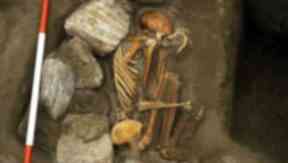 A team of archaeologists digging on South Uist have unearthed one of the clearest pictures of how Neolithic man lived.
Researchers from Southampton and Liverpool Universities have chosen a spot at An Doirlinn to find out how our prehistoric ancestors lived.
Dr Fraser Sturt, of Southampton University, described the site as probably the best he had ever worked on in the British Isles.
The team have already found decorated pottery, flints and a knife used by possibly the earliest settlers on the island.
He said: "It's always hard looking for the earliest of anything as somebody might find something slightly earlier but this is our best guess at the moment as one of the earliest sites.
"There have been a series of contemporary sites excavated in the past but what we are able to do now is add more detail through new methods and add to our broader knowledge of this period."
The site is close to Cladh Hallan, where Sheffield archaeologist Mike Parker Pearson discovered two 3000-year-old mummified bodies in 2001. Recently published research revealed that the two "Frankenstein mummies" were assembled with body parts of several corpses.
Dr Sturt added: "Mike Parker Pearson and his team have just revealed that rather than being single individuals buried they are reworked components of people.
"In one of the mummies there are three different individuals brought together in different ways, a jawbone from one person, lower legs and an arm from another. It's remarkable and a form of practice we would not have known about had it not been for advances in DNA work."