Scotland Tonight: Criticism over lack of same-sex marriage decision
Scotland Tonight held a discussion on the latest developments surrounding the equal marriage plans.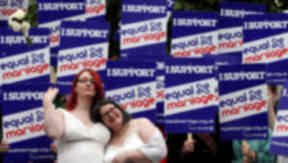 The Scottish Government has been criticised for failing to indicate whether it will back proposals to legalise same-sex marriage.
On Tuesday the government was expected to announce its intentions following a cabinet meeting at Bute House.
However, the plans for equal marriage have now been referred to a sub committee headed up by Deputy First Minister Nicola Sturgeon.
Tom French, policy co-ordinator of the Equality Network, a lesbian, gay, bisexual and transsexual welfare group, has criticised the delay by the Scottish Government in making a decision on legalising same-sex marriage.
He told Scotland Tonight that the delay came after the 80,000 strong public consultation on the proposals ended seven months ago.
Mr French also questioned why the government had not made the "positive case" for same-sex marriage.
John Deighan, parliamentary officer for the Catholic Church, said that he felt the delay over a decision on the proposals were related to the government being unable to give assurances that "freedom of conscience" would be respected should same-sex marriage be legalised.
He also accused equal marriage campaigners of "running away from a referendum" because they were scared of the result.
Radio Forth and Radio Clyde political editor Colin Mackay felt that the delay from the government was not a case of weak leadership but was the SNP regime indicating that it will back the proposals and will formally announce it by the end of the month.