Alcohol ban on Scotland's trains between 9pm and 10am comes into force
ScotRail has announced the measure in a bid to curb an increasing number of drink-related incidents on their trains.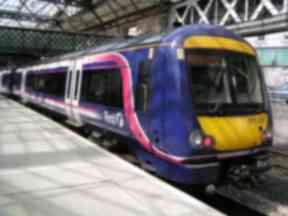 A ban on consuming alcohol on board Scotland's trains in the mornings and evenings has come into force.
ScotRail has said the ban will be enforced seven days a week between 9pm and 10am.
People who are drunk will also be prevented from travelling on trains.
The company said the move was in response to an increase in anti-social behaviour among rail passengers.
ScotRail said that in the past six months, British Transport Police responded to at least 260 drink-related incidents, while an increasing number of trains were delayed due to anti-social behaviour and at least one accident a week was caused by excessive alcohol.
Steve Montgomery, ScotRail's managing director, said: "Customers should be able to travel in a safe and friendly environment.
"It's time to call a halt on the irresponsible minority who spoil journeys for the majority. These individuals disrupt services, abuse staff and fellow customers and cause accidents."
The Caledonian Sleeper will be exempt from the ban along with services on the east and west coast between Scotland and England which are not operated by ScotRail.
Trains with catering services will stop selling alcohol from 8.30pm and customers will be told to finish their drinks by 9pm.
British Transport Police will be alerted if any passengers refuse to leave after being declined access to trains or if behaving inappropriately.