Gay behaviour 'leads to early death', says spokesman for Catholic Church
Peter Kearney told Scotland Tonight there was 'a conspiracy of silence' around medical evidence.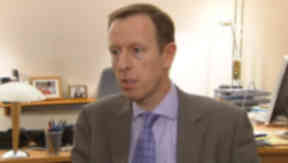 A senior figure in the Catholic Church in Scotland has claimed medical evidence suggests that homosexual conduct "is hazardous, is harmful, and is dangerous".
Peter Kearney, who is director of the Scottish Catholic Media Office, made the comments during an appearance on STV's current affairs programme Scotland Tonight.
Mr Kearney was being interviewed after the Archbishop-elect of Glasgow, Bishop Philip Tartaglia, was forced to apologise to the relatives of late Inverclyde MP David Cairns after suggesting his death could have been linked to his homosexuality.
Mr Kearney told Scotland Tonight's Rona Dougall that there was "a link between same-sex sexual practice and early death" that was supported by medical research.
He said: "There has been, as was suggested by the questioner at that lecture, a conspiracy of silence around the vast array of medical evidence that exists to suggest that same-sex behaviour is hazardous, is harmful, and is dangerous.
"The wider question really is, as a society, why don't we debate that; why don't we have that discussion? Why don't we look at it in the same way, for example, that we've been happy to look at how smoking, how alcohol, how overeating, how drug addiction can cause harms to people's health?"
Mr Kearney went on to insist that medical studies had shown that homosexual conduct shortened life expectancy by up to 20 years. He added that it was not "compassionate" to ignore these studies.
He said: "There is a link between same-sex sexual practice and early death. That's not something that the Catholic Church believes; there is an overwhelming body of medical evidence to suggest that. One study has shown that the life expectancy of a practising homosexual man will be reduced by something between 12 and 20 years.
"We only need to imagine the complex infections, diseases and illnesses that are caused. I think we're all aware of it. We tend to indulge ourselves in a willful fantasy that there are no dangers, that it's not harmful.
"That's not a particularly compassionate response for a society to take."
'Scurrilous'
A statement from the David Cairns Foundation, a charity set up after the MP's death, criticised the "scurrilous" and "hurtful insinuations" by representatives of the Catholic Church.
It said: "David died in tragic circumstances due to complications arising from acute pancreatitis. A gallstone blocked his pancreatic tract leading to further infection acquired during the two months he spent in hospital prior to his death.
"To suggest that his death was in some way connected to his sexuality is totally erroneous and made purely for political gain to somehow influence the debate on Equal Marriage.
"We take exception to the comments made by both Bishop Tartaglia, subsequently re-enforced by Mr Kearney in his television interview. Despite the half- hearted apology offered by the Bishop on Tuesday evening, Mr Kearney continued to support the Bishop's comments in a manner that we and many others would consider to be homophobic.
"Whilst we do not wish to stifle the debate in Scotland and the rest of the UK concerning Equal Marriage, we would implore leaders of faith groups to use language more befitting their office. We can state that a more considered and pastoral approach from both the Bishop and Mr Kearney would likely not have caused the injury felt by David's partner, friends and family."
LGBT equality campaigners also criticised Mr Kearney for his comments. Tom French, policy coordinator for the Equality Network, accused him of "peddling nonsense".
He said: "The leadership of the Catholic Church have sunk to a new low in their campaign against equal rights for LGBT people. They have chosen to pursue ignorant and offensive claims about the lives of loving same-sex couples. Thankfully, we know that the decent majority of people across Scotland want to see their LGBT friends, colleagues and family members treated as equals, with dignity and respect.
"These baseless claims are not science - the so-called researchers simply read through obituaries in the American newspapers. The results have been repeatedly discredited and disowned by the worldwide health research community and the Catholic Church should stop peddling this nonsense."
Bishop Tartaglia's spokesman issued an apology on Wednesday after a video emerged of the cleric appearing to imply a link between David Cairns' sexuality and his death aged 44 from acute pancreatitis.
The Labour MP, who was a practising Catholic and the first former Catholic priest to become a Member of Parliament, died in hospital from the pancreatic condition in May 2011.
While giving a lecture on religious freedom at the University of Oxford in April, Bishop Tartaglia was asked about the connection between homosexuality and early death.
In his response, the bishop referenced the death of former Scotland Office minister Mr Cairns and asked "why his body should just have shut down at that age".
A spokesman for the Archbishop-elect said his comments had been taken out of context. He added: "The Archbishop knew David Cairns, met him regularly at events in Inverclyde, and was personally involved in his funeral arrangements. He is sorry for any hurt which has resulted, there was certainly no offence or judgment intended in his words."