Appeal to find owner of hen found wandering in back garden
The bantam hen was found in a garden in Montrave Crecent, Leven, Fife.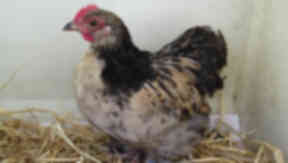 A man did his best to avoid a battering after a surprise visitor dropped into his garden.
The man contacted the Scottish SPCA after he discovered a bantam hen strutting about his back garden in Montrave Crecent on Tuesday.
The animal charities rescuers have named the hen Kaliesha - after American bantamweight boxing champion Kaliesha 'Wild Wild' West - as they attempted to trace its owners.
Kaliesha is currently being cared for at our Angus, Fife and Tayside Animal Rescue and Rehoming Centre at Petterden, by Dundee.
Animal Rescue Officer Bob Ward said the hen was being kept in fighting fitness.
He said: "When we were called to rescue a chicken we were expecting to find a regular-sized hen, but Kaliesha is a tiny wee thing, not much bigger than a pigeon.
"It had been raining and she was soaking wet so she seemed quite happy to be rescued and moved into the warm.
"Kaliesha is a very friendly girl in good condition so we think she's been kept as part of a small collection, possibly in a domestic setting.
"Chickens can flutter up into the air briefly but they can't fly so we assume she's escaped from somewhere nearby.
"However, we can't rule out the possibility that she may have been abandoned.
"If no-one comes forward to claim her we'll look after her until she can be found a new home, preferably with some other chickens to keep her company."