Protest at Russian Embassy in Edinburgh over deaths during Syrian uprising
Russia accused of selling arms to Syria as protesters demand immediate arms embargo to stop bloodshed.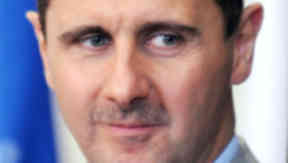 Campaigners have launched a protest outside a Russian consulate in a bid to halt the bloodshed in Syria.
Syrians living in Scotland joined with Amnesty International at the embassy in Edinburgh to mark 500 days since the start of the conflict.
The charity said it has the names of more than 12,000 men, women and children who have died since the start of the conflict.
It is calling on the international community to bring bloodshed in the country to an end.
UN high commissioner for human rights Navi Pillay has expressed "deep alarm" at the situation. He said reports of forces arriving in the city of Aleppo "bodes ill for the people of that city".
"It goes without saying, that the increasing use of heavy weapons, tanks, attack helicopters and, reportedly, even jet fighters in urban areas has already caused many civilian casualties," he added.
The fighting in Aleppo has claimed the lives of at least 145 rebels and civilians in the last six days, according to the Britain-based Syrian Observatory for Human Rights.Shabnum Mustapha, director of Amnesty International Scotland, said the protesters targeted the Russian embassy because of the country's role in selling arms to Syria.
She said: "Russia has been sending arms to Syria during the conflict and they know what they are going to be used for.
"They have also been vetoing Security Council resolutions which could have ended the violence a long time ago. So, there is a complete failure of international leadership on this issue, people are dying every day.
"We are calling for an immediate arms embargo on all arms sales to the Syrian government."