Family of man who died of stab wounds after row want case reopened
Police said Colin Marr committed suicide but his family want the case reopened.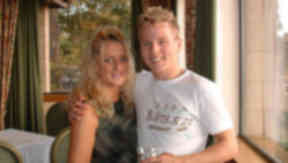 A former senior CID officer has found "serious failings" in an investigation into the death of a man five years ago.
David Swindle compiled the critical independent report following a campaign by the family of Colin Marr, who challenge the police conclusion that his death was suicide.
Mr Marr, 23, of Lochgelly in Fife, died from a single stab wound to the chest in July 2007 following a domestic row.
In his report, Mr Swindle said: "This was a suspicious death and should have been treated as such at the beginning."
He added: "Reviewing this tragic case has been a challenge and sometimes frustrating as I progressed through the various stages of my methodology continually reflecting on the failed investigation trying to understand why such basic but serious failings were made."
There were no systematic failings by the police or Crown Office and Procurator Fiscal Service (COPFS), but a "series of errors" by experienced professionals, he found.
"How this may have affected the search for the truth about Colin Marr's death is the question which may never be answered. However, hopefully at some point the unanswered questions as to how Colin Marr sustained his fatal injury will be resolved and the findings reflected in this report will assist in that regard," he added.
Mr Marr's mother highlighted five recommendations in the report, disclosed today, which she believes confirm the "suspicious" nature of his death.
The findings include calls for a review of fingerprint and forensic evidence and the re-interviewing of five witnesses.
In a statement, she said: "It's five years, almost to the day, since my son, Colin, died at home from a stab wound to the chest. This report confirms the suspicious nature of his death.
"I share Mr Swindle frustrations at the basic and serious failings in the investigation."
A total of 34 recommendations were made in the 50-page report by Mr Swindle.
Scottish Liberal Democrat leader Willie Rennie, a Mid Scotland and Fife MSP, said the local force "mishandled" the investigation.
"This report confirms that. It is now imperative that the five key recommendations from the report are taken forward by another force," he said.
Local Labour MSP John Park also welcomed the report, calling for the Lord Advocate to meet the family.
A Crown Office spokesman said: "The investigation of the death of Colin Marr remains open."
Any request for a meeting with the Lord Advocate would be considered, the spokesman added.