Health bosses urged to make prostate cancer drug available on NHS
Prostate Cancer UK have urged the government to make abiraterone available to British cancer sufferers.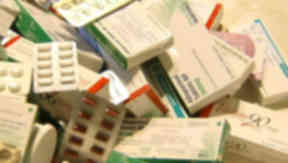 A drug which is believed to have been responsible for extending the life of the Lockerbie bomber Abdelbaset al-Megrahi should be available on the NHS, according to a leading cancer charity.
Prostate Cancer UK said Scotland is "out on a limb" in not recommending abiraterone for NHS patients, after they indicated that the drug could extend the lives of late-stage cancer sufferers by about four months.
The charity is now calling on health bosses to make the drug that treats prostate cancer available to patients on the NHS.
Owen Sharp, the charity's chief executive, said: "News that abiraterone has been approved for use in the NHS in England, Wales and now Northern Ireland represents a resounding triumph for the thousands of men with advanced prostate cancer who campaigned long and hard for its availability.
"However our delight for men in these countries is matched only by our dismay that Scotland remains out on a limb as the only country in the UK where men with incurable prostate cancer continue to be routinely denied access to abiraterone on the NHS."
In March, the Scottish Medicines Consortium (SMC), which decides which drugs should be offered on the NHS and issues advice to NHS boards about newly licensed medicines, deemed the drug too expensive for use on the NHS.
The company behind the drug resubmitted it to the SMC in May and the body is due to publish its decision in August.
Following al-Megrahi's return to his native Libya, a prostate specialist suggested that the Lockerbie bomber Abdelbaset al-Megrahi outlived his three-month prognosis by more than two years with the help of the drug.
Mr Sharp added: "Prostate Cancer UK will not rest until men have access to the drugs they need, regardless of where they live in the UK.
"Abiraterone can significantly reduce pain and other symptoms as well as extend life by an average of four months. Such outcomes are just as invaluable to men in Scotland as they are to men in England, Wales and Northern Ireland.
"When the SMC announces its revised appraisal of abiraterone in August all eyes will be on it to ensure this anti-Scottish anomaly is ironed out once and for all."
The charity said 2700 men are diagnosed with prostate cancer every year in Scotland, with 19,000 currently living with the disease.
A Scottish Government spokeswoman said: "As we have previously made clear, we welcome the company's decision to resubmit to the SMC who are now considering the revised application and will publish their advice in due course.
"The Scottish Government has already issued guidance to help health boards make consistent and transparent decisions about the introduction and availability of all newly licensed medicines.
"This guidance includes specific advice about making drugs available for individual patients even if they are not recommended for general use.
"These arrangements are intended to ensure that - where there are demonstrable benefits - patients in all parts of Scotland are able to access newly licensed medicines in accordance with clinical need."
Scottish Conservative health spokesman Jackson Carlaw said: "Thousands of men across the UK will have their quality of life enhanced thanks to this drug. But unfortunately, none of these patients will be in Scotland, which is now the only part of the UK where the drug has not been approved.
"This is an unacceptable disadvantage, and one that must be addressed immediately. It also highlights the importance of creating a Cancer Drugs Fund, something the SNP has repeatedly refused to do.
"Even before this drug, priceless to so many men and their families, was approved in England, patients there had the fall back of a Cancer Drugs Fund.
"Thanks to the Scottish Government's inaction on this, men here don't even have that as a last resort."