Former wrestler Mick Foley speaks about his time at the Edinburgh Fringe
Former wrestler Mick Foley interviewed on Scotland Tonight about his career and about his appearance at the Edinburgh Festival Fringe.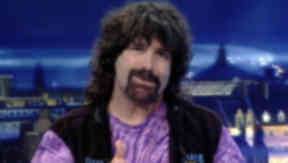 Former wrestler Mick Foley was interviewed on Scotland Tonight as he appeared in Edinburgh as part of the Festival fringe.
He is one of the best known characters in American wrestling, having had a long career that saw him fight under the names Mankind and Cactus Jack.
He is also a bestselling author in the US, and is particularly well known for his series of memoirs of his time as a wrestler.
He has also written a number of children's books.