Grandfather admits bigamy but claims MS made him forget he was married
Kenneth O'Connor, of Aberdeen, wed his girlfriend despite still being married to his wife.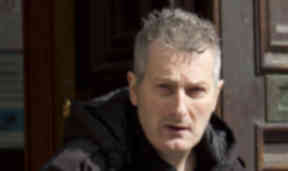 A grandfather has admitted marrying his girlfriend while still married to his wife.
Kenneth O'Connor, of Aberdeen, tied the knot with Donna Butler when he was still legally married to his first wife.
He claimed his multiple sclerosis made him forget he was already married.
The 50-year-old, of Kirkwall Avenue, admitted a charge of bigamy when he appeared at Aberdeen Sheriff Court on Wednesday.
O'Connor wed his second wife at the city's Mannofield Parish Church on February 28, 2009.
He was arrested when the crime came to the attention of police.
O'Connor said he had suffered from MS for 21 years and had just been confused because of his condition.
After the hearing, he told how he had been split from his first wife Maria Antoine for several years when he wed for the second time.
He said: "I felt I was manipulated in this case. I thought my first wife had signed the [divorce] papers and I was divorced - but obviously not. I was just totally confused. I've got MS and a short-term memory.
"My second wife left me a few months after the alleged marriage. It totally broke my heart. I thought it was a fresh start but it wasn't meant to be."
O'Connor said he wed his childhood sweetheart Maria at the city's St Machar's Cathedral on August 12, 1982.
The couple met when they were teenagers at school and went on to have a daughter together but later separated.
The MS sufferer, who walks with the aid of crutches, said the case had had a devastating effect on his life.
He added: "It put me into a relapse. I've ended up with two sticks rather than one through stress. MS and stress don't go well together."
The father said he was no longer in contact with his second wife but met another woman two years ago who he was now happy with.
Sentence was deferred until next month.