Man jailed for attempting to rape another man
Derek Barrett, a former consultant to the Labour Party, has been jailed for 30 months.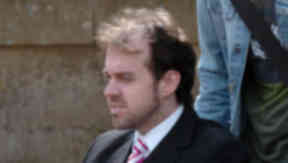 A former consultant to the Labour government has been jailed for two years and six months for attempting to rape a man after a champagne-fuelled party.
The High Court in Glasgow heard that 34-year-old Derek Barrett's victim ran a mile naked to a friend's house after the sexual assault. 
The 25-year-old was still sobbing incoherently when police arrived to take a statement from him. 
On Tuesday, temporary judge Mark Stewart QC told Barrett: "You have been convicted by a jury of the attempted sodomy of the complainer. It was clear from the evidence the events had a profound effect on the complainer. This was a matter which caused him the most severe distress." 
In evidence, Barrett's victim told prosecutor Andrew Miller that he and Barrett had been at a social evening along with a number of others.  During the night bottles of Veuve Clicqueot and Bollinger had been drunk and the 25-year-old had fallen asleep fully clothed in a bed.  He told the jury he woke up naked with Barrett was touching him on the chest and kissing him. 
The victim, who is gay, said the accused attempted to have sex with him. He told him 'no' and 'stop', and tried to get out of the bed, but Barrett held him back. 
After fighting Barrett off, the victim ran naked from the house.
When Barrett, from Bishopbriggs, was quizzed by police he denied that anything had ever happened and said his victim had made up a story. He also denied the crime throughout his trial.
But DNA analysis proved that there had been sexual contact between the two men.  Mr Miller told the jury: "The accused took advantage of the fact his victim was asleep and tried to force himself upon him."
Barrett, who has ongoing health problems from a brain tumour, was found guilty of the attempted rape which took place at a house in Bishopbriggs on January 28, 2007.