Iraq war critic to meet with Prime Minister
Rose Gentle, whose son died in Basra, to have private meeting with Gordon Brown.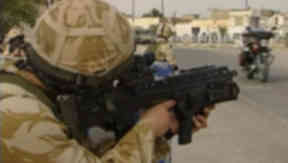 A Glasgow woman whose son died in the Iraq war and who has since been an outspoken critic of the government's handling of the war is to meet the Prime Minister.
Rose Gentle, 45, who helped set up the campaign group Military Families against the War, is to have a private meeting with Gordon Brown.
She says she will ask him  about improving information for families who have lost loved ones in Iraq and Afghanistan and about equipment for frontline troops. 
Mrs Gentle said: "The families could be informed a lot more about the death of a loved one. Families who have lost someone feel as though they are not getting a lot of information.
"They have a right to know exactly what happened before it comes out in a newspaper or book.
"Families want to know why it is taking so long for equipment to get over to Afghanistan. That's what the families are really worried about.
"There should also be funds set up for the siblings who have lost a relative."
Her son Gordon Gentle, 19, was killed in Basra in Iraq in June 2004.
She added: "I've never had a face-to-face meeting with the Prime Minister before. We are quite thankful that Gordon Brown is meeting with us."
Mrs Gentle said she will be accompanied by her mother Pauline Graham, who is also part of the campaign group.
A Downing Street spokesman said: "We can confirm the meeting is taking place today."