Dundee submarine memorial to be unveiled
Service to be held commemorating war time submariners who operated from the River Tay.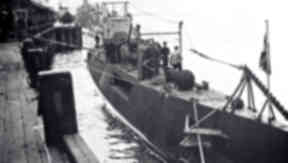 A memorial commemorating the war time submariners who operated from the River Tay will be unveiled at Victoria Dock in Dundee Harbour on Thursday.
From 1940 to 1946 Dundee was the home port of the Royal Navy's 9th Submarine Flotilla - a unique international force composed of British units along with Free French, Dutch, Norwegian and Polish crews after the countries had been overrun by the Nazis.
Russian submarine crews were also based in Dundee in the summer of 1944.
The Dundee submarines played a role in some of the most daring naval operations of the war.
Patrols were maintained perilously close to the enemy-held coastline and enemy warships were attacked, one Dundee submarine heavily damaging the battlecruiser Gneisenau and another blowing the stern off the cruiser Prinz Eugen.
The fleet also patrolled far inside the Arctic Circle to protect convoys carrying war supplies to the Soviet Union, on occasion even dicing with the mighty German battleship Tirpitz.
One submarine, the O 22, pictured above, slipped its moors a few minutes after this photo was taken on the afternoon of November 5 1940.
Its crew of 42 Dutch and British men, sent to relieve the British submarine HMS Sturgeon on patrol off south-west Norway, were never heard from again.
The mystery of the submarine's disappearance was only solved in 1993 when a Norwegian survey vessel stumbled upon its wreck 40 miles off the Norwegian port of Egersund.
It is thought she struck an enemy mine three days after leaving Dundee.
The new memorial is dedicated to the six British, Dutch, Norwegian and Russian submarines lost while on patrol from Dundee.
It will also commemorate the 296 sailors and commandos who are "Still on Patrol" - and honour the extraordinary gallantry of all the British, French, Polish, Norwegian, Dutch and Russian submariners who went on patrol from the River Tay.
Designed by artists Jeremy Cunningham and Paul Grime, the striking memorial will be built next to the Clocktower development in the centre of Dundee's Victorian Dock complex.