Ewan McGregor shooting new film in Glasgow
Scottish star filming scenes for his new movie in the city.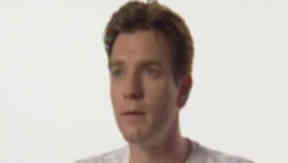 Scottish film star Ewan McGregor has been filming scenes from his newest film in Glasgow city centre.
The actor was shooting scenes from The Last Word with co-star Eva Green on the banks of the River Clyde.
The film reunites McGregor with Young Adam director David Mackenzie and reportedly tells the story of a couple falling in love as the world falls victim to a pandemic.
Scripted by Danish writer Kim Fupz Aakeson, the film has been described as an "apocalyptic love story" and is expected to be released next year.
Dressed in a dark polo neck jumper and grey jacket, the Perthshire-born 38-year-old was seen sharing a joke with former Bond girl Green.
The pair were also seen sheltering from the Scottish rain under a large umbrella.
McGregor was launched to fame after appearing in the Star Wars franchise as Obi-Wan Kenobi. He has also starred in
Angels and Demons with Tom Hanks, Moulin Rouge with Nicole Kidman and the British film hits Brassed Off and Trainspotting.