Pope Benedict will visit Scotland
Cardinal Keith O'Brien, the leader of Scotland's Roman Catholics, hopes that Pope Benedict XVI will address the Scottish Parliament.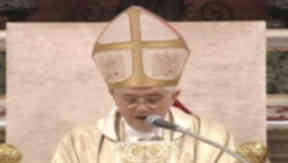 The leader of Scotland's Roman Catholics has confirmed that Pope Benedict XVI will come to Scotland next year as part of his state visit to Britain.
Cardinal Keith O' Brien said details of the visit to Scotland have yet to be worked out but he hoped it would include an opportunity for the Pope to address the Scottish Parliament. The Cardinal said, however, that he thought this was unlikely.
The visit of Pope Benedict to the country will undoubtedly attract thousands of people, similar to Pope John Paul II's historic arrival in Scotland in 1982 when he visited Edinburgh and Glasgow.
It was reported on Wednesday that the pontiff would visit the UK, but neither the Catholic Church in Britain or 10 Downing Street were officially confirming the report.
The reports are believed to have come from British officials travelling with Prime Minister Gordon Brown in New York. Mr Brown extended a formal invitation to the Pope to come to Britain during a private audience in February.
A Downing Street spokesman said: "The PM is obviously delighted at the prospect of a visit from Pope Benedict XVI to Britain. It would be a moving and momentous occasion for the whole country and he would undoubtedly receive the warmest of welcomes."
Mr Brown, who has a close relationship with the Pope having met him several times as part of his work on international development issues, extended him a formal invitation to visit during a private audience in February.
On Thursday, religious and political leaders welcomed the prospect of the first official papal visit to the UK. Roman Catholics in England and Wales were said by their leader to be "filled with joy" at the news and the Archbishop of Canterbury said Anglicans would welcome the pontiff "with great warmth and joy".
According to the reports, the trip is expected to take place in the autumn of 2010 and will have many of the trappings of a state visit.
Watch STV Political Editor Bernard Ponsonby's look back at Pope John Paul II's visit to Scotland in 1982